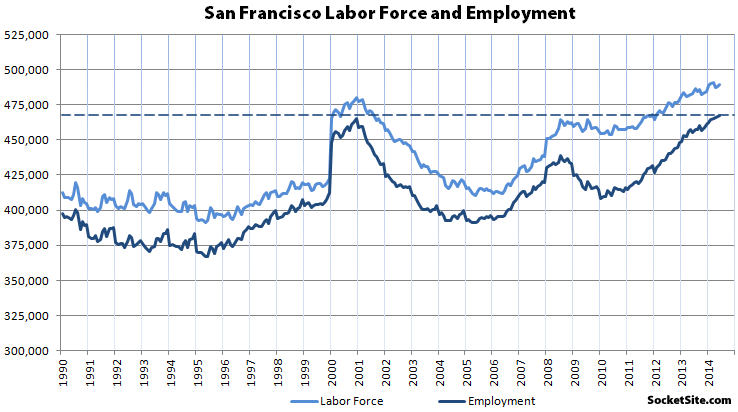 While the unemployment rate in San Francisco ticked up from 4.4 percent to 4.6 percent last month as the size of the city's labor force grew, the number of San Francisco residents with jobs increased by 700 and employment in San Francisco has hit a new all-time high.
According to California's Employment Development Department, the number of employed San Francisco residents now totals 467,200.  That's 1,700 more employed than at December 2000's dot-com peak when the unemployment rate in the city measured 3 percent on a smaller labor force 0f 480,000 versus 489,500 today.
The unemployment rate in San Francisco topped out at a little over 10 percent in January of 2010 when 59,500 fewer San Francisco residents were employed.
The unemployment rates in Marin and San Mateo both ticked up last month as well — to 4.0 percent and 4.2 percent respectively — as did the unadjusted unemployment rate for California which ticked up  from 7.1 percent to 7.3 percent as statewide employment dropped by 25,700.