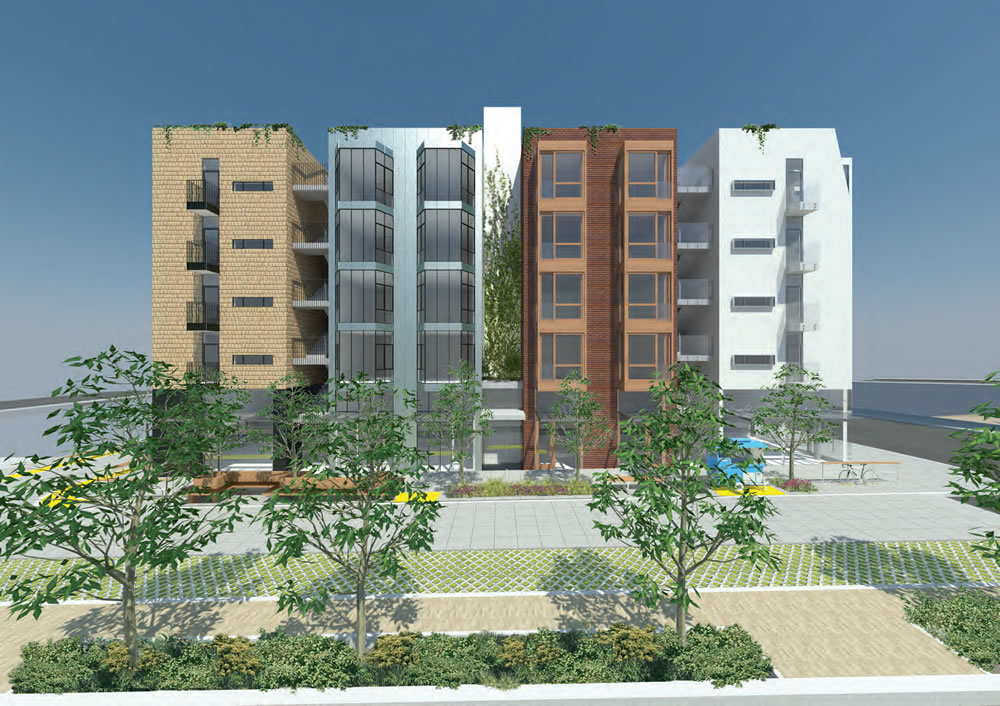 While almost four times the size of the 34 "CoLiving" units proposed to rise on the parcel next door, the ten two-bedroom apartments proposed for former Central Freeway Parcel S average a little under 600 square feet each, including eight "Murphy Units."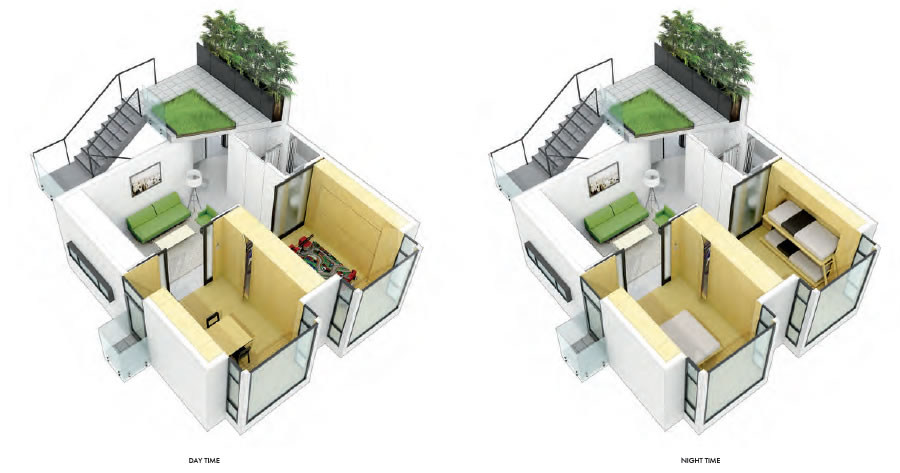 From the winning proposal for the Hayes Valley development:
This will allow more people to live smart – and live well – at less cost. As an example, our "Murphy 2-Bedroom" – at approximately 600 SF – will provide all the functionality of a conventional 2-Bedroom which is typically around 850 SF in size. We anticipate that the Murphy 2-Bedroom will rent for around $3500 compared to the average $4191 monthly rent for conventional 2-Bedroom units in competing nearby developments.

This is accomplished through super-efficient and precise spatial planning supported by the deployment of an assortment of articulating furniture elements (table-beds, desk-beds, adaptable storage elements, etc.) that are "built-in" to the unit. This allows one to quickly and easily transform a space for one use to another e.g., dining room to home-office, home-office to bedroom, bedroom to playroom, etc.

Overall, this approach enables one to live in a more resource-efficient manner and with a lighter imprint upon the environment and less stress on one's finances. It eliminates the need (and expense) for inhabitants to purchase a number of bulky furniture items such as beds, tables, wardrobes, dressers, shelving, etc. and to move them about from one place to the next – especially the cheap "disposable" variety that prematurely wears out and too often ends up at "the curb" and/or the landfill.
In addition to the Murphy Units, the proposed Parcel S development also includes two mini-two bedrooms measuring 566 square feet, twelve 273-square-foot studios, and four mini retail spaces on the ground floor.
Keep in mind that the original Murphy Wall Bed Company started in San Francisco and we have seen some rather creative riffs on the design.