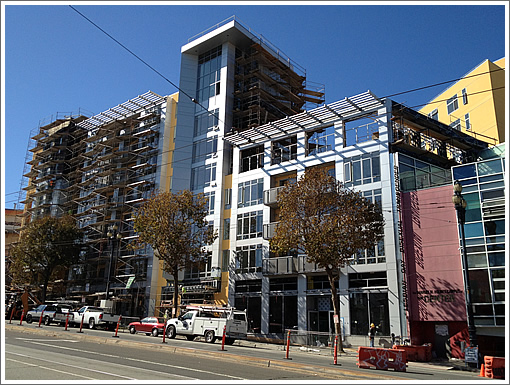 With tenant move-ins now being scheduled for December, the "Venn" at 1844 Market Street is currently leasing 671 square foot one-bedrooms priced from $3,075 a month and 849 square foot two-bedrooms from $3,625 a month. Parking is being offered at $250 a space, and up to two pets are welcome but at an additional charge of $50 a month.
As a condition of being approved for development, fourteen (14) of the Venn's 113 rental units are being offered as part of San Francisco's Affordable Housing Program, with 8 one-bedrooms being offered for $1,066 a month and 6 two-bedrooms for $1,192 a month. Parking for the Below Market Rate (BMR) units is available for one hundred bucks a spot.
In order to qualify for one of the 14 BMR units, households can make no more than 55 percent of Area Median Income, which means an individual can make no more than $38,950 a year, a two person household no more than $44,500. At the same time, the minimum required income for a one-bedroom is $31,980 a year and $35,760 a year for a two-bedroom.
Applications for the 14 BMR units at 1844 Market Street are due by November 11, 2013 at 5pm.