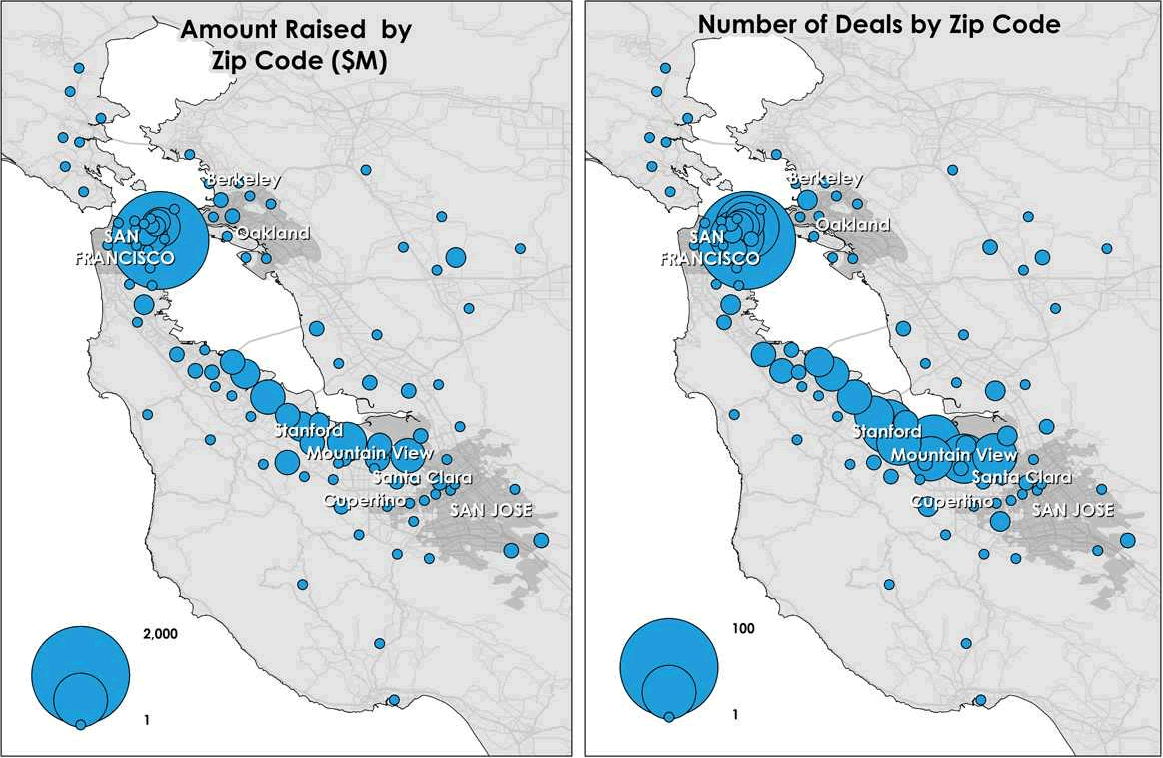 Two great maps (click to enlarge) and top ten lists from the Atlantic Cities (Why San Francisco May Be the New Silicon Valley) with respect to where the venture dollars are flowing and the deals are getting done across the Bay Area.
The city of San Francisco is the leader with $4.39 billion in venture capital investment, roughly a third of the Bay Area total. This is by far the largest amount of venture investment of any jurisdiction in the region, and a whopping 16 percent of total venture investment nationally. Palo Alto is a distant second with $1.29 billion (4.8 percent of the national total), followed by Redwood City ($1.06 billion), Mountain View ($918 million), Sunnyvale ($800 million), Santa Clara ($733 million), and San Jose ($688 million).
Investment has also begun to spread up and down the Peninsula, filling in the cities that stretch between San Jose and San Francisco proper. And, within the Bay Area broadly, according to these zip code level data, the San Francisco metro attracted nearly 70 percent more venture capital ($8.5 billion) than the Silicon Valley region ($5 billion).
The top ten zip codes into which the venture dollars flowed in 2011, with San Francisco's 94107 (Potrero Hill, South Beach, South Park) atop the list:

1. 94107 (Potrero Hill, South Beach, South Park) San Francisco – $1,885.8M
2. 94105 (Rincon Hill, Embarcadero South) San Francisco – $693M
3. 94043 (Suburban Mountain View, including Google headquarters) Mountain View – $660.5M
4. 94063 (Centennial, Stambaugh Heller, Redwood Village, Friendly Acres) Redwood City -$575.2M
5. 94103 (South of Market) San Francisco – $554.6M
6. 95054 (Suburban Santa Clara, north) Santa Clara – $548.3M
7. 94065 (Redwood Shores) Redwood City – $433.5M
8. 94301 (Crescent Park, University South, Old Palo Alto) Palo Alto – $412.7M
9. 94085 (North-central Sunnyvale) Sunnyvale – $389.7M
10. 94089 (North Sunnyvale, including Lakewood, Lockheed Martin HQ) Sunnyvale – $378.2M
The Bay Area attracted $13.5 billion in venture investment in 2011, "more than four times that of greater Boston or greater New York, the nation's second and third largest centers for venture capital investment." Have we mentioned that the number of employed in San Francisco has grown by 47,800 since the beginning of 2010 and is closing in on a December 2000 dot-com peak?
∙ Why San Francisco May Be the New Silicon Valley [theatlanticcities.com]
∙ SF Employment Slips In June To 10,000 Workers Below Peak [SocketSite]