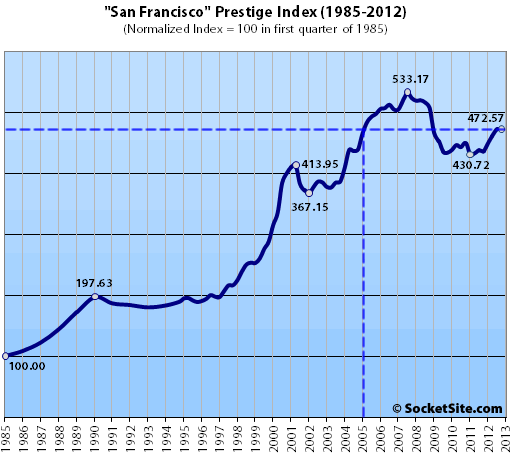 The First Republic Prestige Home Index for "San Francisco" homes valued at more than $1 million and currently averaging $2.73 million fell a nominal 0.1 percent from the third to fourth quarter of 2012 but ended 2012 up 8.4 percent on a year-over-year basis.
The index remains down 11.3 percent from a third quarter 2007 peak but is back to first quarter 2005 levels, up 9.8 percent from the current cycle bottom which occurred in the first quarter of 2011 at which point the index was down 19.2 percent from its peak.
Over the past year, a little less than 25 percent of all home sales in San Francisco proper have been above the million dollar mark.
And as always, keep in mind that First Republic's "San Francisco" index includes "a cross-section of luxury homes in Alamo, Atherton, Belvedere, Danville, Healdsburg, Hillsborough, Lafayette, Los Altos, Los Gatos, Mill Valley, Moraga, Orinda, Palo Alto, Piedmont, Portola Valley, Ross, St. Helena, San Francisco, Saratoga, Sonoma, Tiburon and Woodside."