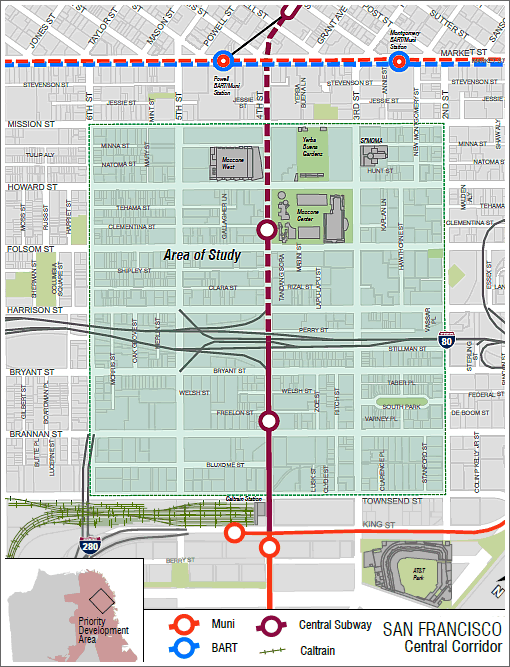 With the population of the Bay Area expected to increase from roughly 7 million to 9 million people over the next 30 years, an integrated long-range transportation and land-use/housing plan for the San Francisco Bay Area by Plan Bay Area projects San Francisco will add 190,000 new jobs by 2040.
With an eye on high density, transit served locations to meet the projected growth, enter the Planning Department's plan for the Central Corridor centered on the Central Subway line and Fourth Street in SoMa, between Townsend and Market Streets:
While the City has performed significant planning for housing in recent years, it has been somewhat less proactive in planning space for jobs, whose location have a much stronger correlation with transit usage than does housing location. With significant development occurring since the adoption of [San Francisco's] Downtown Plan over twenty-five years ago, few significant Downtown building sites remain, and as job types and industries diversify, companies are seeking a wider range of spaces than the typical Downtown model can provide.
The [Planning] Department, in coordination with the Office of Economic & Workforce Development, is looking at a number of areas and opportunity sites around the City to support continued job growth and economic development consistent with regional environmental objectives. The Central Corridor, as a high-demand area with excellent regional transit accessibility, adjacency to existing job centers, diverse urban amenities and connectivity to San Francisco's well‐educated workforce, is a key part of that comprehensive strategy.
The Central Corridor Plan Area, centered along the Central Subway and the Fourth Street corridor in SoMa between Townsend and Market Streets, offers a unique opportunity for integration of transportation and land use. The Central Corridor Draft Plan will propose changes to land uses and building height controls, public realm and open space improvements, strategies for preservation of neighborhood character and historic resources, and increased environmental sustainability.
Slated for publication early next month, San Francisco's Planning Department will present an update on the development of their Draft Central Corridor Plan to San Francisco's Planning Commission on Thursday.
Keep in mind that in order to support 190,000 new jobs, Plan Bay Area projects 92,000 new housing units will be built in San Francisco as well, double San Francisco's current housing pipeline.
∙ Envisioning San Francisco's Central Corridor As An EcoDistrict [SocketSite]
∙ The Big Plans For This East SoMa Block, Bigger Than Planned In Fact [SocketSite]
∙ The 43,580 New Units In San Francisco's Current Housing Pipeline [SocketSite]