The San Francisco Municipal Transportation Agency's Great Highway and Point Lobos Avenue Bicycle Lanes Project was approved in 2009, one of 60 proposed Bicycle Plan projects throughout the city.
With San Francisco's Great Highway scheduled to soon be repaved, an extended bike lane project is set to finally take shape, adding a raised landscaped median and Class II bike lanes on the Great Highway between Lincoln Way and Balboa Street:

Twenty-nine feet will be generally available on either side of the median for travel and bicycle lanes. Within the 29-foot width, two narrower travel lanes, one 10-foot and one 11-foot (existing travel lanes are 12-foot and 16-foot in each direction), a 2-foot painted buffer area, and a 6-foot Class II bicycle lane (a lane striped with the paved areas of roadways, and established for the preferential use of bicycles) will be built. In areas where 29 feet are not available, no buffer area is proposed. The revised project would add a northbound bike lane from Lincoln Way to Fulton Street and would connect to the existing bike facility on Great Highway that runs from Lincoln Way to Sloat Boulevard.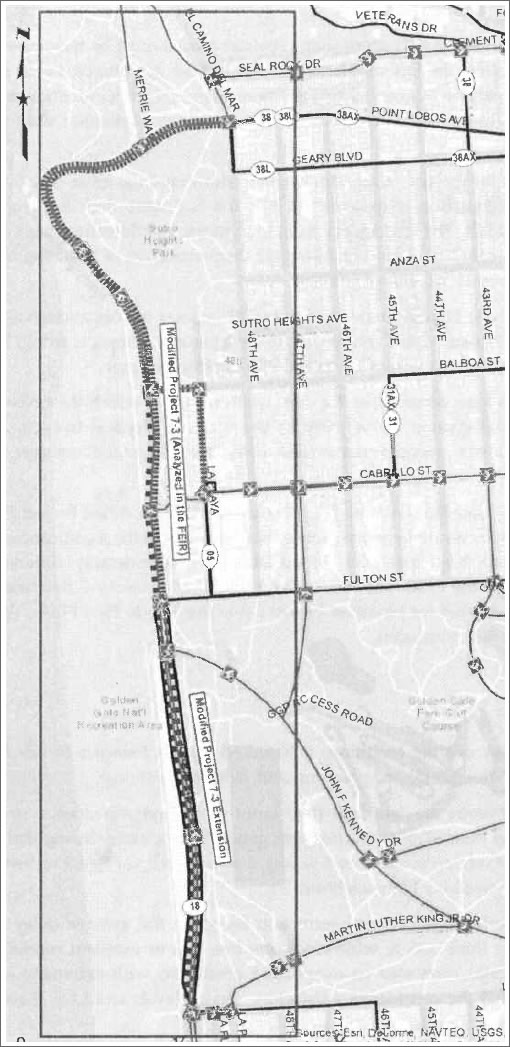 The Modified Project will provide a Class II bicycle lane on Great Highway and Point Lobos Avenue, in the northbound and eastbound directions from Fulton Street to 48th Avenue, by removing one travel lane in each direction on Point Lobos Avenue and Great Highway from 48th Avenue to Balboa Street.
The Project will provide a Class II bicycle lane on Point Lobos Avenue in the westbound direction from El Camino Del Mar to approximately 725 feet westerly at the entrance to Sutro Heights parking lot and a Class II bicycle lane on Great Highway in the southbound direction from approximately 575 feet north of Balboa Street at the entrance to the parking lot on the west side of the street from which a Class II bicycle lane would be extended to Balboa Street. The Project will also provide a shared Class III bicycle route on Balboa Street between Great Highway and La Playa Street, and on La Playa Street between Balboa and Cabrillo.
As part of the Project, approximately 10 on-street parking spaces would be removed on the north side of Point Lobos Avenue, from the 48th Avenue intersection westward. The removal would provide space for a new southbound right-turn only lane into a new parking lot proposed by the National Park Service. The existing parking lot located on the north side of Point Lobos Avenue would be expanded and relocated eastward by approximately 200 feet to accommodate approximately 135 parking spaces.
∙ Great Highway and Point Lobos Avenue Bicycle Lanes Modification [sf-planning.org]