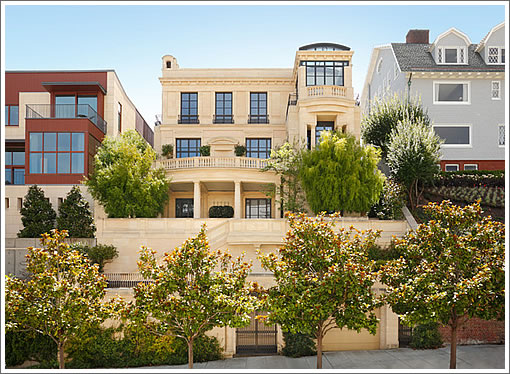 As plugged-in people know, the two-parcel site which includes 2940 Pacific and upon which 2845 Broadway was built was purchased for $32 million in 2002, the cost of construction for the 17,500 square foot home and 6,000 square foot guest house has already reached $20 million, and the "buzz among brokers" is that it will cost another $8-16 million to finish.
And as we first reported last month:
While the listing for 2845 Broadway at $38,500,000 was quietly removed from the MLS without a reported sale last week, as a tipster notes, the unfinished Gold Coast property which is currently owned by the Sperlings is actually under contract to be sold.
Originally listed for $65,000,000 in 2006, if the sale of 2845 Broadway closes within 14 percent of its most recent list price it will be the most expensive home ever sold in San Francisco, relegating 2840 Broadway to the penultimate position at $33,000,000.
Unless a major miscalculation, fat finger error or tomfoolery by San Francisco's Assessor Recorder's office is in play, based on the recorded transfer tax paid, the copy of the deed we received pegs the sale price of 2845 Broadway at $20 million.
A $20 million sale is just a bit below the original $65 million ask, $18.5 million (48 percent) under its last list price, roughly $32 million less than has been invested in the property to date, and nowhere near the $33 million 2840 Broadway commanded.
In terms of the buyer, while we've heard various yammerings, the legal entity on the deed is Broadcliff LLC with a mailing address of a wealth manager out of Dallas, Texas. We can't yet officially confirm the individual hidden behind the LLC.
∙ The Most Expensive Home Ever Sold In San Francisco Is… [SocketSite]
∙ The $65,000,000 House [SocketSite]
∙ Over $50 Million Invested And Now Asking $38.5M For 2845 Broadway [SocketSite]
∙ Behind The Sperling's Shocking "Sale" Of 2323 Hyde For $9,000,000 [SocketSite]
∙ The Confidential Sale Price For 2840 Broadway On Billionaire's Row [SocketSite]
∙ The Political Case Of A 38 Percent Reduction In Property Tax Paid [SocketSite]