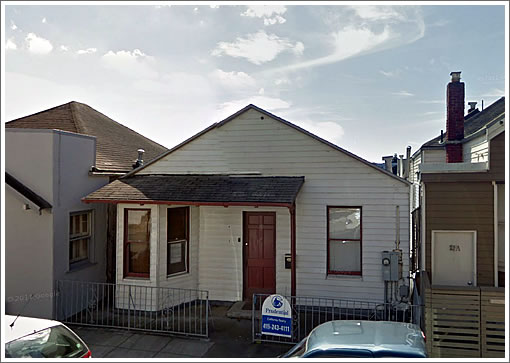 As we wrote about 15 Surrey in early 2010, having been purchased for $731,000 in 2007:
Listed for $995,800 [in October of 2009] touting "READY to brake (sic) ground," the 625 square foot one bedroom home at 15 Surrey with approved plans to become an "over 2800" square foot four-bedroom/three and one-half bath Glen Park view home has returned to the market asking $895,800.
The clock is now ticking, however, as the new listing notes: "permits issued." Keep in mind that the permits are technically for a "remodel" of the current property including a vertical and horizontal addition of 1,800 square feet (no word on what would appear to be an unaccounted for 375 square feet).
The old 15 Surrey ended up selling for $540,000 in April of 2011 with demolition and reconstruction following soon thereafter, followed by a neighbor's complaint:
Work on going way beyond the scope of [the permit]: building a fourth or 3rd and 1/2 floor @back, completely blocking neighbors' view. It's not visible from the front [of the house].
From the building inspector's notes who was assigned to the case:
The designs were not seen or approved by affected neighbors. We were unable to approve/deny the permit drawings. I would not have approved the architectural plans.
That being said, the building was found to be within the scope of what was approved by City Planning, the neighbor's complaint was dismissed, and construction continued.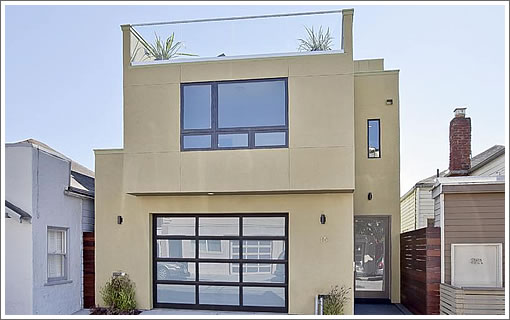 Now touting three bedrooms across 3,406 square feet, the rebuilt single-family home at 15 Surrey Street is back on the market and seeking $2,149,000.
∙ Listing: 15 Surrey Street (3/4.5) 3,406 sqft – $2,149,000 [15surrey.com]
∙ Suspended Disbelief (And Renderings) For 15 Surrey [SocketSite]
∙ 15 Surrey Relisted And Reduced (And The Permit Clock Is Ticking) [SocketSite]