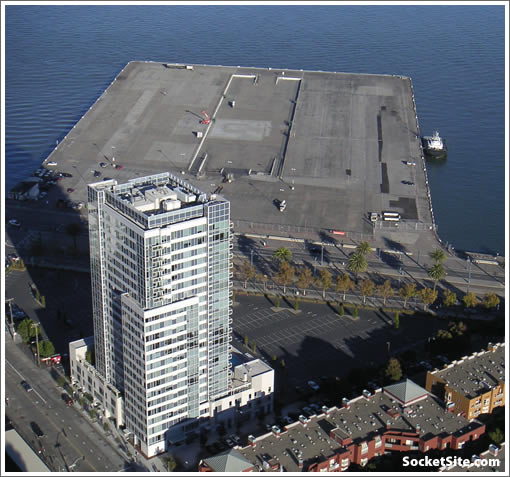 A few highlights and insights from the first meeting between Golden State Warriors President Rick Welts and neighborhood advocates from Rincon Hill, South Beach, South Park and Mission Bay by way of Jamie Whitaker's Rincon Hill blog with respect to the Warrior's plans for a new arena upon San Francisco's Piers 30-32:
The proposed arena will take up about 40% of the [Piers 30-32] space.
Arena estimated to be 125-ft high. Estimated to hold 17,000 -18,000 seats. Currently at Oracle Arena, they have parking for 5,000 spaces. The Warriors believe parking for substantially fewer cars will be required for the new arena due to the better public transportation options available.
No architect has been selected. No design yet either. The location of the arena (where on the piers will it be built) will be critical in order to maximize public access to the waterfront.
Estimated $75-100 million to repair/retrofit the existing infrastructure; estimated $400-500 million to build the arena. 100% private financing. Allow 2 years for the EIR, then 3 years to build (including the time to retrofit the piers). They plan to be open for the 2017 season.
Also noted, while the parking lot across the street at the base of Watermark (SWL 330) is part of the proposed project, nothing has been decided with respect to its use.
∙ Notes from First Golden State Warriors and Neighbors Meeting [rinconhillsf.org]
∙ The Plans For A Legacy San Francisco Warriors Arena Upon The Piers [SocketSite]
∙ Seeking Noncompetitive Negotiations For Piers 30-32 [SocketSite]
∙ San Francisco's Last Minute Giveaways To Get The America's Cup [SocketSite]