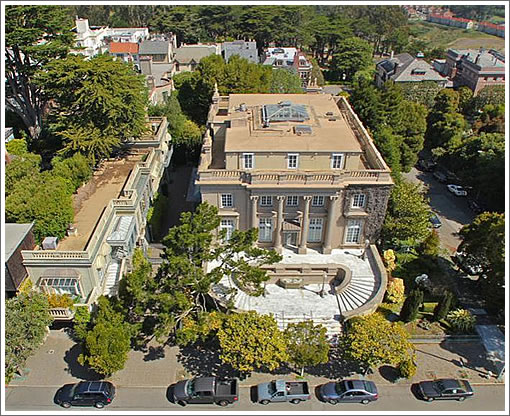 The guest house on the left is 2,618 square feet, the backyard includes an undeveloped lot, and the main home at 3800 Washington measures roughly 18,000 square feet.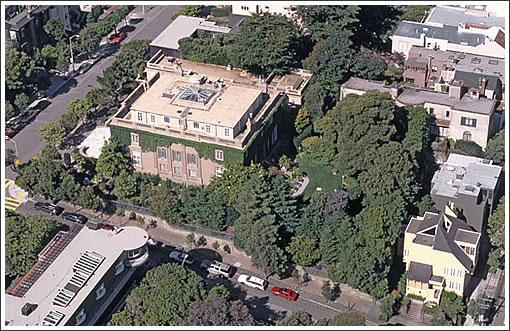 As we wrote about the Presidio Heights property last year:
While it's looking a lot better today than it did in 1906, as a plugged-in reader notes…Halsey Minor's Le Petit Trianon at 3800 Washington has been deemed "abandoned" by the city and an order of abatement has been issued for failing to comply with San Francisco's Abandoned Building Ordinance.
As plugged-in people know, Minor paid $20,000,000 for the 17,895 square foot property in 2007 (a notice of default followed in 2009).
And yes, we should all be so lucky as to live near such "blight."
Having never gone to auction, the Le Petit Trianon property trio has returned to the market listed for $25,000,000 with "detailed architectural drawings for a full renovation."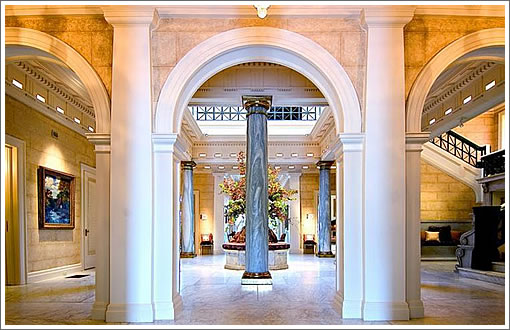 ∙ Listing: 3800-3810 Washington / 125 Maple – $25,000,000 [byzantiumbrokerage]
∙ Minor's "Abandoned" Mansion At 3800 Washington [SocketSite]
∙ Beauty Blight Is In The Eye Of The City (And Perhaps Your Neighbors) [SocketSite]
∙ Le Grand Notice De Default For Le Petit Trianon (3800 Washington) [SocketSite]