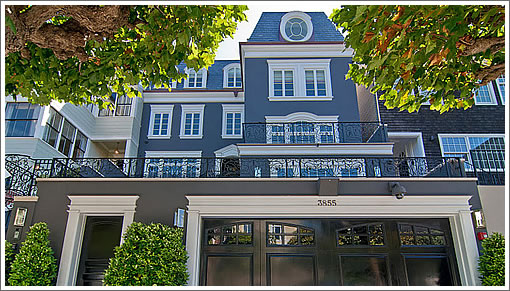 As we wrote this past November:
While purchased by the Pincus family in 2009 for $8,100,000, despite a number of (mis)reports suggesting otherwise, the family never called 3855 Washington Street home.
In fact, we don't believe they ever spent a night in the Presidio Heights pad which has returned to the market listed for $8,900,000 having been significantly remodeled (including an all new master suite, seismic work and security) over the past two years.
As plugged-in people know, it was 1572 Shrader Street from which the Pincus family most recently moved. And no, they weren't the buyers of 2950 Broadway, the sale of which we first reported yesterday.
The sale of the remodeled 3855 Washington Street closed escrow today with a reported contract price of $8,200,000. As plugged-in people know, the sale of the Pincus' previous home at 1572 Shrader closed escrow this past January.
And no, they weren't the buyers of 2701 Broadway either.
∙ A Pincus House (But Never A Pincus Home) [SocketSite]
∙ The Shrader Street Home From Which Mark Pincus Was Driven [SocketSite]
∙ 2950 Broadway Sells For $29,500,000 (And No, That's Not A Typo) [SocketSite]
∙ Ba-Zynga! [SocketSite]
∙ 2701 Broadway: Despite The SFPD A Plugged-In Reader Reports [SocketSite]