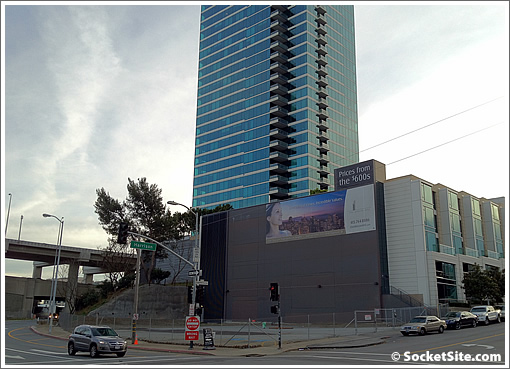 A plugged-in tipster over at One Rincon Hill delivers the design, timing and detailed scoop with respect to the second tower and One Rincon Hill Phase II:
Construction is anticipated to start approximately June 1, 2012 and be completed in an estimated 26 months. The building design, unit size and unit mix can be summarized as a 50 story version of Phase I as displayed at the scale model located in the sales office.
For the floor plans and unit layouts, Phase II will combine the two adjacent small one bedroom units at the center of the building curve above floor 25 into one two bedroom unit. The number of two bedroom units will increase and the number of one bedroom units will correspondingly be reduced. Approximately 60% of Phase II unit plans are the same as Phase I.
Significant improvements in the Phase II building will include a 3,600 square foot exercise facility and a top floor 4,000 square foot penthouse "Sky Lounge." (As comparison, current Phase I amenities include a 750 square foot exercise room and an 1,100 square foot Party Room). All amenities, including the existing swimming pool and spa deck facilities, will be available to occupants of both towers.
Phase II will be "constructed and marketed as [condominiums]," but with a plan for rentals "should the market require… with the ultimate objective of re-establishing condominium sales as the market allows."
A single Home Owners Association will include both Phase I and Phase II units. If Phase II enters the market as rentals, Principal Real Estate Investors will "become part of the existing HOA to operate and manage both buildings."
Also noted, the developer is "in discussions with Caltrans about potentially using the existing Caltrans property next to the Bay Bridge, adjacent and south of the Phase II site" as a private landscaped park for the use of One Rincon Hill.
∙ One Rincon Hill Tower Two Site Sold, Rentals Likely To Rise [SocketSite]
∙ One Rincon Hill (425 First) [SocketSite]