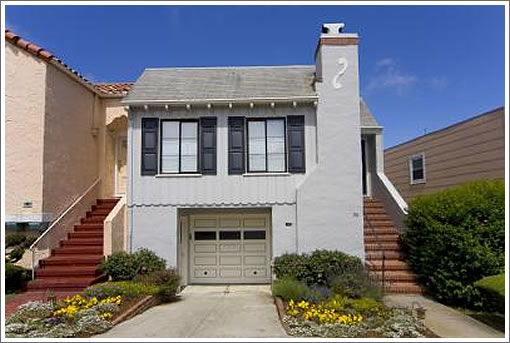 As we wrote in February:
Speaking of single-family homes for sale up in Miraloma Park, when we last checked in on 99 Marietta the four-bedroom home had returned to the MLS as short sale listed for $685,500 having fallen out of contract when previously listed for $612,500.
Once again, the 1,966 square foot home was purchased for $850,000 in September 2005 with a rather reasonable 20 percent down and a $680,000 variable rate loan. Not previously mentioned, in February 2007 the property was refinanced with a first for $750,000 and a second for $149,000 (for which the property would have had to appraise).
A few minutes ago the list price for 99 Marietta was reduced to $675,000. At the same time, the property is currently scheduled to hit the courthouse steps on March 18 with $41,355 past due on Washington Mutual's first (as previously noted by a reader).
The courthouse sale was cancelled. And yesterday, the non-foreclosure sale of 99 Marietta Drive closed escrow with a reported contract price of $650,000, twenty-four (24) percent or $200,000 below its sale price in 2005.
∙ The Courthouse Clock Is Ticking For 99 Marietta Up In Miraloma [SocketSite]
∙ A Modern Miraloma Apple Returns At 801 Teresita Boulevard [SocketSite]
∙ 99 Marietta Comes Up Short (For The Sellers) In Miraloma [SocketSite]