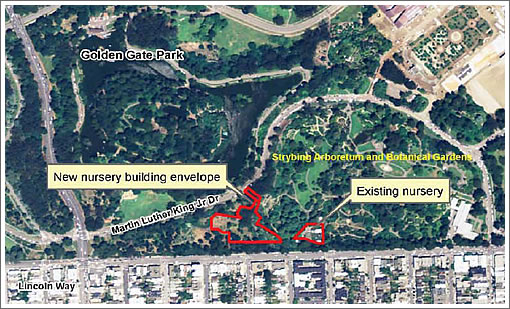 As proposed, the existing 4,642 square foot nursery within San Francisco's Botanical Garden will be razed and a new 9,830 square foot nursery and Center for Sustainable Gardening will rise to the west.
The new Nursery: Center for Sustainable Gardening, if approved, will replace the existing antiquated nursery with a state-of-the art facility targeted at the LEED Platinum level and constructed with renewable materials that will have a living roof, rainwater collection and recycling system and serve as a teaching tool for the City's maintenance staff and residents interested in sustainable building and gardening practices.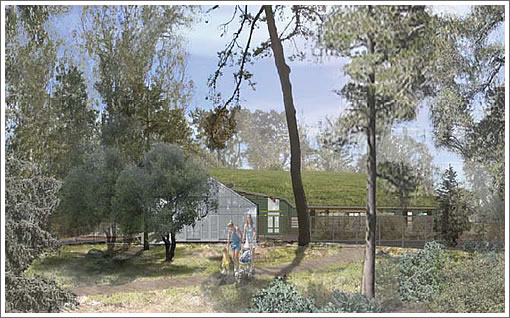 Elements will include a greenhouse, headhouse and shadehouse as well as outdoor growing grounds and an outdoor learning area. The Center will also include public restrooms, office and meeting space for Botanical Garden staff, City Gardeners and volunteers.
The site of the existing greenhouse will be replanted as an extension of the California Native Plant Garden and comments on the proposed development will be accepted by Planning until 5:00 PM on September 16.
No word on whether the new Center will offer courses on trimming palm trees as well.
∙ San Francisco Botanical Gardens Nursery: Center for Sustainable Gardening [sfplanning]
∙ SFBGS's Nursery: Center for Sustainable Gardening Project [sfbotanicalgarden.org]
∙ For The Love (And Hate) Of Palm Trees In San Francisco [SocketSite]