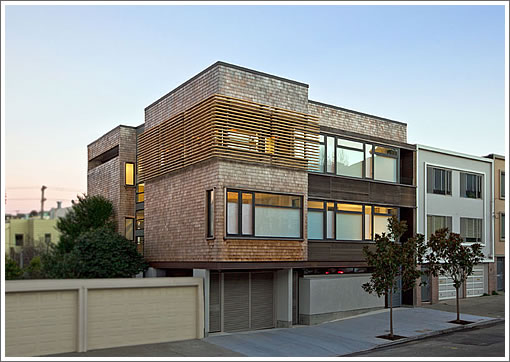 As we reported in February:
We first stated following the construction of the two modern townhomes at 3119 and 3121 Harrison a little over three years ago. Originally expected to be finished in 2009, they were asking $2,700,000 a piece as pre-construction in late 2008. And in March 2009 one of the two (3119 Harrison) was listed for $2,370,000.
Now construction complete, the two condos have been listed anew with a bit more modern expectations as well. Now asking $1,895,000 for the 2,500 square foot three-bedroom at 3119 Harrison and $1,950,000 for the 2,645 square foot three-bedroom at 3121 Harrison.
In addition to three bedrooms, both units offer three (and one-half) bathrooms across three levels and parking for three cars side-by-side.
In June the sale of 3121 Harrison closed escrow with reported contract price of $1,750,000 ($716 per square foot). And this past Friday, the sale of 3119 Harrison closed escrow with a reported contract price of $1,650,000 ($717 per square).
And yes, they're the "Harrison Street Residences: 1 x 2" on the upcoming AIA Home Tour.
∙ The Threes At 3119 And 3121 Harrison Now Listed For Under Two [SocketSite]
∙ Coming (Not So) Soon To An Empty Lot (3119 Harrison) Next Year [SocketSite]
∙ We'll Give You The Jump Once Again: 3119 Harrison On The Market [SocketSite]
∙ We Gave You The Jump, Now Some New Renderings: 3119 Harrison [SocketSite]
∙ 2011 San Francisco Living: AIA Home Tours Lineup (And Challenge) [SocketSite]