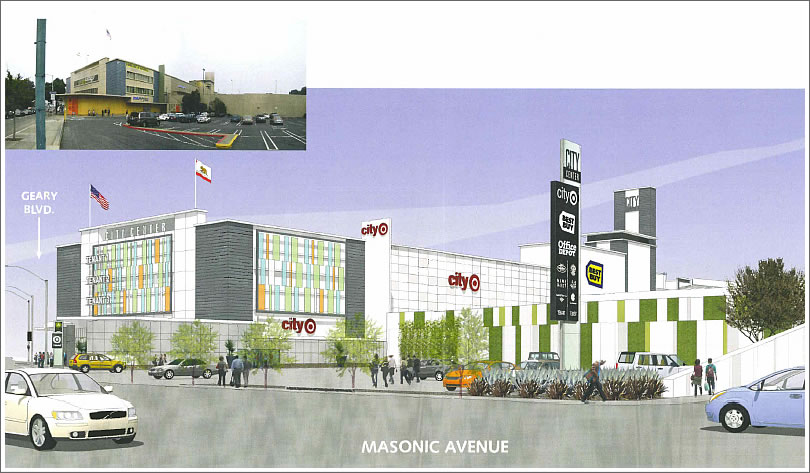 As we first reported earlier this week, this coming Thursday the Planning Commission will hear Target's request to open a 106,000 t0 120,000 square foot store "offering clothing, personal accessories, household goods, including home furnishings, electronics and groceries" in the City Center development at the corner of Geary and Masonic.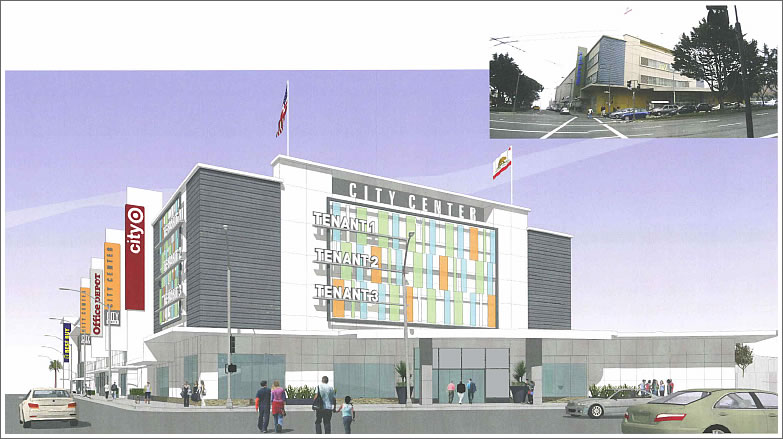 Target's stated design goals for the project (click either image to enlarge):
Activate the street edges to make the building pedestrian friendly and contribute to an active street life
1. Increase the amount of street-front display windows along Masonic Ave.
2. Maintain and add display cases along the Geary elevation to create activity, visual interest and pedestrian scale.
3. Refurbish the base building materials to provide a higher quality, durable pedestrian environment.
4. Rehabilitate grade level planters and plantings along Geary Blvd.
5. Explore building-mounted, pedestrian scale lighting.
Apply elements to the facades to moderate the building's bulky scale and give it an updated appearance
1. Add blade sign elements appropriate to the Mid-Century Modern character of the building that introduce rhythm, color and movement to the facades along Geary Blvd.
2. Add screen elements to key facade areas that provide contemporary hints of warmth, color and texture to the building.
3. Repaint the building in a new color scheme that emphasizes 1.g texture and articulation over monotonous bulk.
Create a more sustainable building
1. Update and reuse the existing building, employing recycled materials whenever possible.
2. Enhance bicycle parking and storage.
Add landscaping to soften the environment
1. Vines at existing retaining walls.
2. Add drought-tolerant plants.
3. Replace landscape in existing planters
The Planning Department recommends the Commission approve the request.
∙ Target Prepares For Planning Vote On Geary Store Next Week [SocketSite]
∙ YIMBY's Set Their Sights On A Target At Geary And Masonic [SocketSite]
∙ One Word: Target. Okay, Five: Target At Geary And Masonic? [SocketSite]