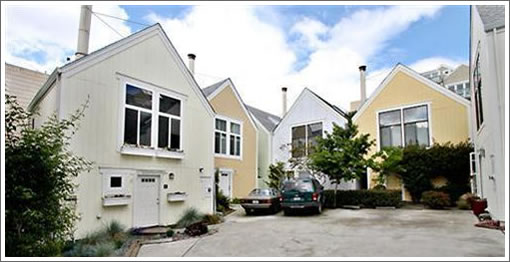 As we reported in May:
One of ten Donald MacDonald designed petit townhomes that comprise the Clinton Mews urban infill development off Guerrero, 170 Guerrero Street #F was purchased for $507,000 in November 2003.
Refinanced in June of 2007 with a first for $517,500 and a second for $130,000, as of this past November the first mortgage was $43,976 past due and the home is currently scheduled to hit the courthouse steps in a month.
In the meantime, 170 Guerrero #F has been listed for $568,000 as a short sale.
Avoiding a courthouse steps sale rescheduled for tomorrow, it would appear as though the short sale of 170 Guerrero #F closed escrow yesterday with a reported contract price of $503,000 versus $507,000 in 2003 (or $647,500 in debt for which the property would have had to appraise in 2007).
∙ On This Farm He Had A Short Sale (And Foreclosure In The Works) [SocketSite]