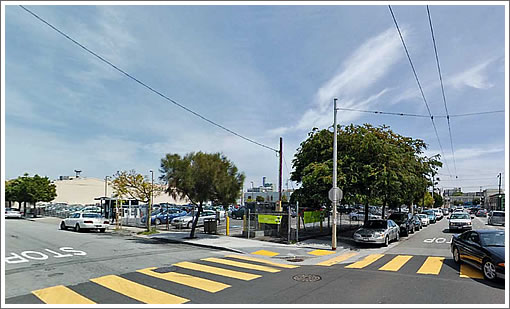 As proposed, the 219-space surface are parking lot on the north side of 17th Street between Folsom and Shotwell will be subdivided with 26,625 square feet remaining for parking and a 34,300-square-foot neighborhood park rising on the rest.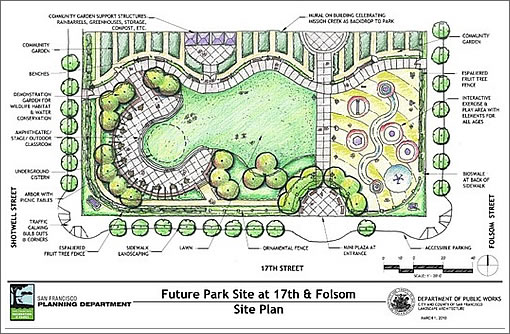 Supported by Planning which determined the project did not warrant a full Environmental Impact Report (EIR), an appeal of Planning's decision will be heard by San Francisco's Planning Commission tomorrow. In the words of the appellant:
The project will cause 124 parking spaces will be lost in a parking lot that is 90% + capacity a majority of time during the workweek and serves as a vital resource to neighborhood health organizations, arts organizations and small and medium sized businesses.

The review documents have not described the usage of the parking lot, capacity or any alternatives other than existing public transit options. In fact, at a meeting held with the Municipal Transportation Agency in June 2010, there was indication that the neighborhood would have other projects that would further reduce supply of an increasing demand for parking spaces. This includes the consolidation of bus routes, the narrowing of Folsom street with wider sidewalks, a proposed bike lane along 17th Street.

This is all in an area where demand for parking has continuously increased as the neighborhood has become safer, the home to more small businesses and provides more health care, arts access and community outreach resources to the Mission neighborhood.

The parking lot is currently used by:

1. UCSF staff
2. Doctors, nurses and staff of the Mission Neighborhood Health Center, which draws medical professional staff at below market wages who are willing to work there due to the convenience and sponsorship of parking. Elimination of these available spaces could have a significant negative impact on the retention and attraction of needed medical expertise to provide health care services to Mission neighborhood residents. More than 10,000 people are served by the center each year and many of those use that parking lot as well. The parking lot is used day and night usage is expanding.
3. ODC students, teachers, staff and audience members including more than 25,000 theatre attendees, 13,000 individual students and lOOs of artists and staff members. As with the health center, usage is all day and increasing at night.
4. More than 100 small businesses are located within a full one block radius of the parking lot.
Many of those have employees and customers who use that parking lot.

Elimination of more than half of the parking spaces alone, not to even consider the cumulative reduction of parking in the area due to other projects, will be detrimental to health care, arts, community outreach, businesses and employment in a low and moderate income neighborhood. As the Certificate of Determination states, people will initially circle for parking-and then ultimately give up without getting access to health care, arts and / or forcing businesses to reduce staff or close.
And while the appellant also cites concerns with respect to the cost of maintaining the park and its safety during a time of budgetary woes for San Francisco, the Planning department recommends the Commission uphold their support for the park.