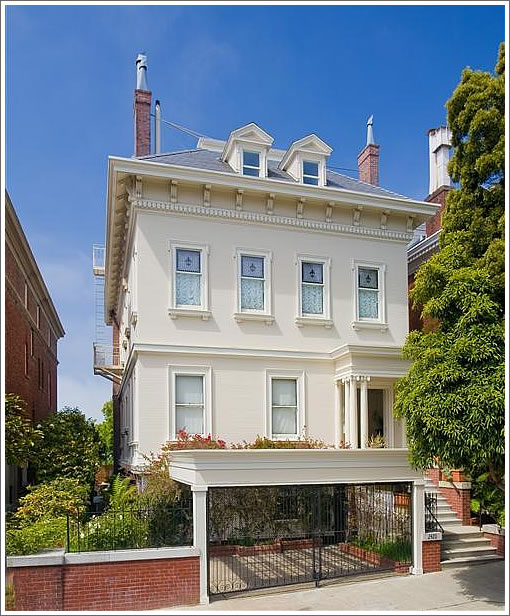 As we wrote eight months ago with respect to 2420 Pacific:
Designed by Julius Ernest Krafft and built in 1902, it was just under a year ago when a plugged-in reader first noticed a move to foreclose upon 2420 Pacific with a Notice of Trustee Sale (NOTS) filed last June.
As far as we know the foreclosure never happened but the big Pacific Heights property is now on the market and asking $12,800,000. Tax records report 7,263 square feet and seven bedrooms, but the listing touts 10,650 square feet per "appraisal" and ten beds.
Five months ago the list price for the Julius castle was reduced 9 percent to $11,700,000. And late last night the list price was reduced another $1,900,000 (16 percent), now asking $9,800,000.
And with respect to that aforementioned foreclosure, it would appear the defaulted upon loans have been refinanced with a new second for $1,800,000 and third for $1,000,000. The first mortgage for $2,009,000 was written in 1994.
∙ Listing: 2420 Pacific Avenue (10/8.5) – $9,800,000 [MLS]
∙ A Julius (Not Julius') Castle Of A Different Kind [SocketSite]
∙ We Should All Be So Fortunate As To Have A Fireplace In Our Foyer [SocketSite]
∙ 2830 Pacific Scoop: Still Not Sold, But Leased With An Option To Buy [SocketSite]