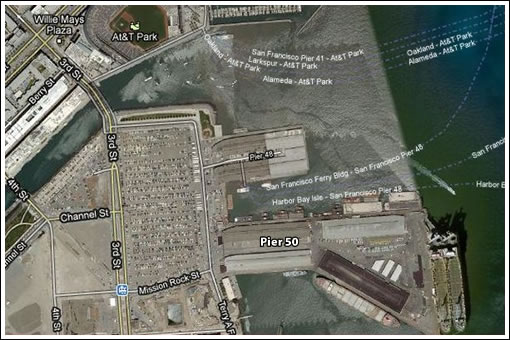 As the Mayor's office scrambles to save the America's Cup that was San Francisco's to lose, the stumbling point appears to be the perceived value of Pier 50.
When the city shifted public viewing facilities to the northern waterfront and Pier 50 was removed from equation, race organizers saw their costs go down, but so did their potential to recoup an investment they say will approach $500 million to put on the regatta and pre-Cup races.
Newsom said race organizers are overvaluing Pier 50's development rights, and thus view the current deal as insufficient.
"Our own analysis is they're delusional about its value, but somehow I think they're fixated that it's worth a lot more," Newsom said. "I'm convinced that they're wrong about this assessment, but they're convinced they're right about the value of the site, so we've been trying to make up for that value."
Giving race organizers the option to develop Piers 26 and 28 was one step, but Stephen Barclay, an official with the team and yacht club, said the piers' historic qualities weaken their development value.
No word on how the Mayor's office analysis matches up with the Giants'.
∙ San Francisco's America's Cup Chances Swiftly Sailing Out To Sea? [SocketSite]
∙ City tweaks America's Cup offer, sees "progress" [SFGate]
∙ A Cup Plan B And Latest Economic Impact Report [SocketSite]