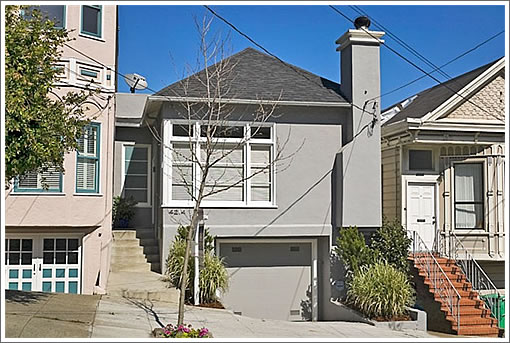 As we wrote in March 2009:
We're digging the decks and all the access to the outdoors of this nicely remodeled Noe Valley home. Oh, and the sweet master suite (we have a thing for spacious showers).
Purchased fully remodeled for $1,553,000 in June of 2007, 4214 26th Street was listed four days ago for $1,499,000. As always, if you're not on record with your own forecast of where it sells, don't bother to criticizing those who were when it does.
Withdrawn from the market two months later, the property was relisted for $1,495,000 this past July and then reduced to $1,395,000 this past September.
On Friday the sale of the "sexy mid-century style [home] in the heart of Noe Valley" with "modern kitchen," "deck with views of the city" and "unbelievable master suite down" closed escrow with a reported contract price of $1,370,000, 11.8% ($183,000) under its year 2007 value.
The average of the first eight plugged-in predictions from 18 months ago? That would be $1,342,500 or a difference of 2 percent. Believe it.
∙ 4214 26th Street: A Nicely Remodeled Noe Valley Apple On The Tree [SocketSite]
∙ A Bounty Of New Noe Valley Apples (And Summer Inventory) [SocketSite]