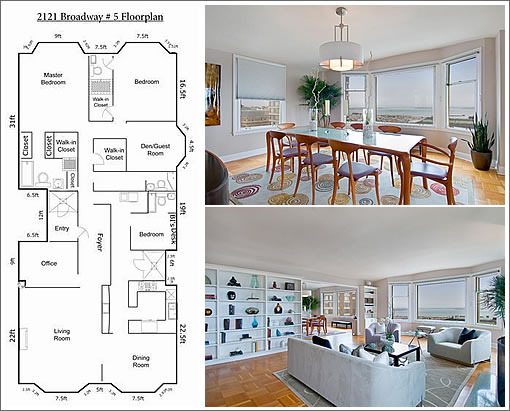 As we wrote in August (Will A 2005 List Price Yield A 2005 Result For 2121 Broadway #5?):
Listed for $2,995,000 in June 2005, the sale of 2121 Broadway #5 closed escrow six weeks later with a reported contract price of $3,111,000. Today, the full-floor Pacific Heights co-op with big views returned to the MLS with a rather familiar list price of $2,995,000.
A sale at asking would represent a 4 percent drop in value below its 2005 sale price.
This past Friday the sale of 2121 Broadway #5 closed escrow with a reported contract price of $2,825,000, call it "only" 6 percent ($170,000) under asking but 9 percent ($286,000) below its year 2005 price for the full floor Pacific Heights co-op.
∙ Will A 2005 List Price Yield A 2005 Result For 2121 Broadway #5? [SocketSite]