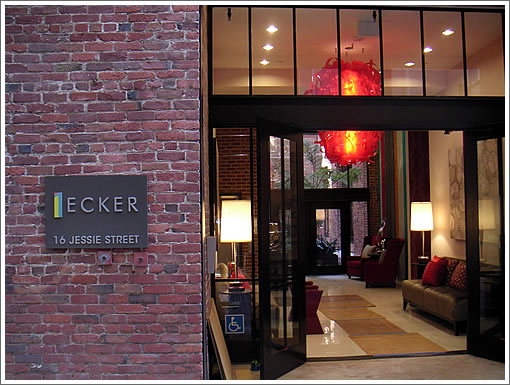 As we wrote in July:
One Ecker Place has officially changed hands. And as a plugged-in tipster noted earlier this week, the sales office is positioning for a September grand (re)opening.

Asking $450,000 to $1,400,000 for the 475 to 1270 square foot units in 2008, the 51 condos are expected to be priced "in the $650 a-square-foot range, with the largest two-bedroom corner units priced about $800,000" in 2010 (i.e., reductions of around 40 percent).

The new owner paid $14 million for the building and is planning on spending another $5 million to finish construction and market the property. The previous owner had purchased the building for $13 million and invested the proceeds of a $15 million note converting the building to residential before losing the building to the bank.
Make that next week for the opening (or this weekend for the plugged-in people who are already on the interest list). And the junior ones with alcoves (which fit a queen sized bed) will start at $299,000; the one-bedrooms will start at $439,000; and the two-bedrooms will start at $599,000.
Our pick of the building is number 403, a top-floor corner two-bedroom with the view below, it's expected to be priced in "the upper $800's" where prices top out.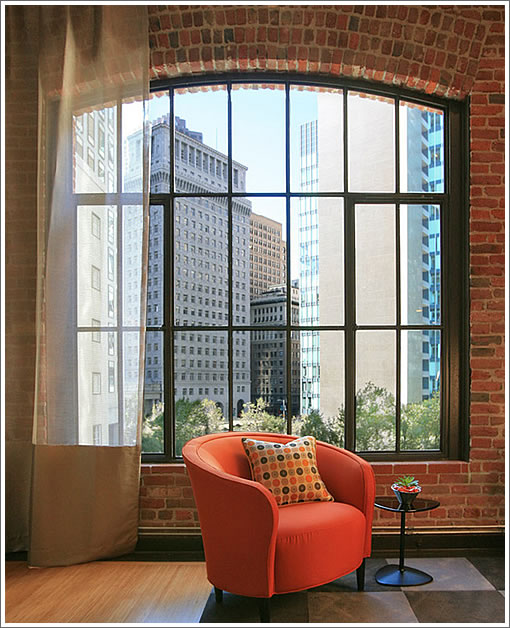 For those who have previously toured the building (or been in escrow), the interior of the units will look the same. The lobby, hallways and other common areas, however, have been redone with a bit more designer flair. Still no doorman or parking if either are musts.
Full Disclosure: The sales team which was selected to represent One Ecker advertises on SocketSite but provided no compensation for this post.