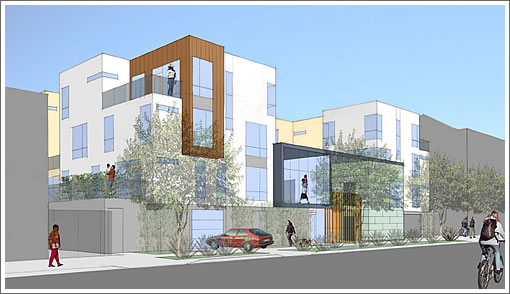 It's been almost three years since we first turned you on to the David Baker + Partners designed development at 1345 Turk, and in two weeks "Fillmore Park" will break ground.
1345 Turk Street offers thirty-two affordable new homes for first-time homebuyers, specifically working families and individuals earning between 70 and 100% of Area Medium Income.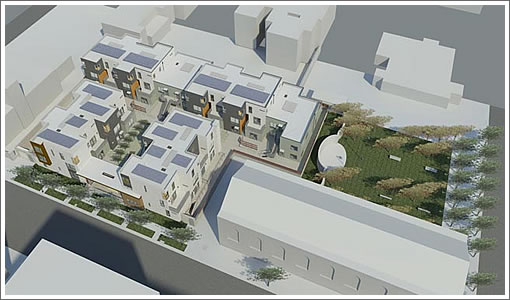 Flats and townhouses with outdoor patios ring a private landscaped courtyard, creating a quiet community just a block from the bustling Fillmore District and walking distance to shopping, entertainment and transportation.
Seven (7) one-bedrooms, seventeen (17) two-bedrooms, and eight (8) three-bedrooms over twenty-four (24) parking spaces. Prices are currently estimated to be "mid-$100,000s to low-300,000s" with construction complete late 2011 or early 2012.
Festivities, refreshments, and perhaps a ceremonial shovel or two on site from 11 am to 12:30 pm on October 21.
UPDATE: A reminder with respect to the substation next door (lower right hand corner in the image above): Bailing On The Substation To Bailout Yoshi's Et Alli.
∙ The (Re)Development And Design Of 1198 Fillmore And 1345 Turk [SocketSite]
∙ Fillmore Park (1345 Turk) [dbarchitect.com]
∙ 1345 Turk [1345turk.com]