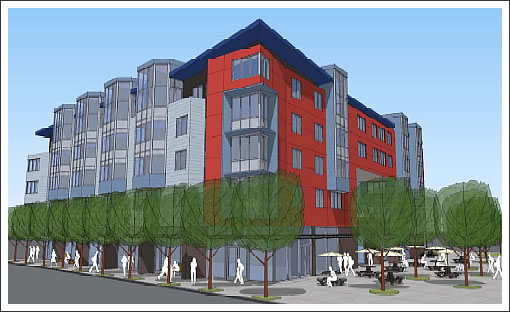 As we noted last month with respect to the proposed design for the 71-unit affordable and supportive housing development at 1100 Ocean Avenue:
The parking garage is located at grade level and is accessed from the Lee Avenue extension. The garage contains five-off-street parking spaces including a handicap accessible space and a car share space. The building will have 32 class 1 bicycle parking spaces for the residential space and four class 1 bicycle parking spaces for the commercial space. The remainder of the ground floor will provide supportive service and community space.
As the Chronicle writes today:
Neighbors were never especially happy about plans to build 71 units of affordable housing on a city-owned bus turnaround at Ocean and Phelan avenues, across the street from City College. But when they learned the apartment complex would have just five parking spaces – plus one car-share slot and a single handicapped space – the complaints poured in.
Keep in mind that 21 of the units are intended for occupancy by young adults transitioning out of foster care, the remaining units are intended for occupancy by households earning less than 50% of area median income, the Balboa Bart station is an eight minute walk away, and the Bayshore B Express to downtown currently does its turnaround right there.
∙ The Designs (And Approvals) For 1100 Ocean Avenue As Proposed [SocketSite]
∙ Housing plan sets off S.F. parking debate [SFGate]