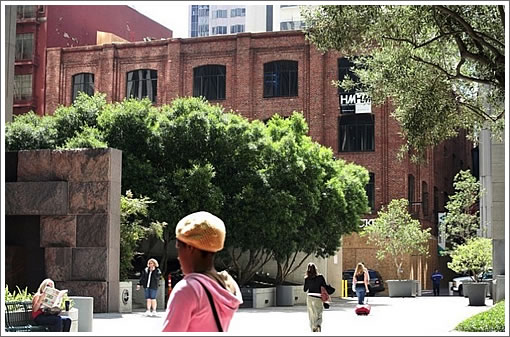 One Ecker Place has officially changed hands. And as a plugged-in tipster noted earlier this week, the sales office is positioning for a September grand (re)opening.
Asking $450,000 to $1,400,000 for the 475 to 1270 square foot units in 2008, the 51 condos are expected to be priced "in the $650 a-square-foot range, with the largest two-bedroom corner units priced about $800,000" in 2010 (i.e., reductions of around 40 percent).
The new owner paid $14 million for the building and is planning on spending another $5 million to finish construction and market the property. The previous owner had purchased the building for $13 million and invested the proceeds of a $15 million note converting the building to residential before losing the building to the bank.
The history in headlines and links:
∙ A Heller Manus Renovation Of 1 Ecker Place [SocketSite]
∙ One (1) Ecker Place Update: Sales Office Open (And A Few Details) [SocketSite]
∙ The SocketSite Scoop On One (1) Ecker Place: Going Condo Rental [SocketSite]
∙ The Scoop On One (1) Ecker Place Redux: Going Condo Rental Condo [SocketSite]
∙ As One Ecker Turns (Our Fourth Update): Selling In Receivership [SocketSite]
∙ As One Ecker Turns (Over): Lender Forecloses As Nobody Bids [SocketSite]
∙ Pauls scoops up SoMa condo site [San Francisco Business Times]