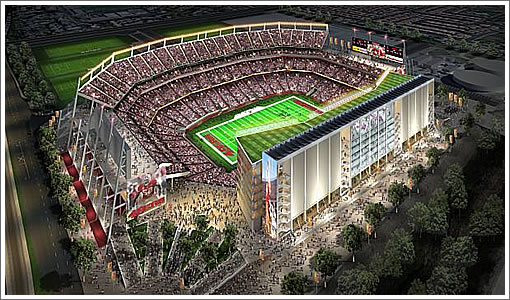 While still not a done deal with respect to a move of the San Francisco 49ers from San Francisco, yesterday Santa Clara voters approved Measure J which paves the way to build a new stadium and move the team south.
Lennar's redevelopment plans for Candlestick Point would obviously be affected by the move, but as we wrote a year ago:
We'll go on record with the suggestion for the development of a "football" stadium and a few practice pitches of another kind. Can you say San Francisco Earthquakes?
And no, that's not just a World Cup fever talking (T minus two days).
∙ First And Goal For The San Francisco Santa Clara 49ers Stadium [SocketSite]
∙ The Grand Plan And Aesthetics For Candlestick/Hunters Point [SocketSite]
∙ More Sizzle Than Steak For Lennar's San Francisco Stadium Plan? [SocketSite]
∙ Can You Say San Francisco Earthquakes? [SocketSite]