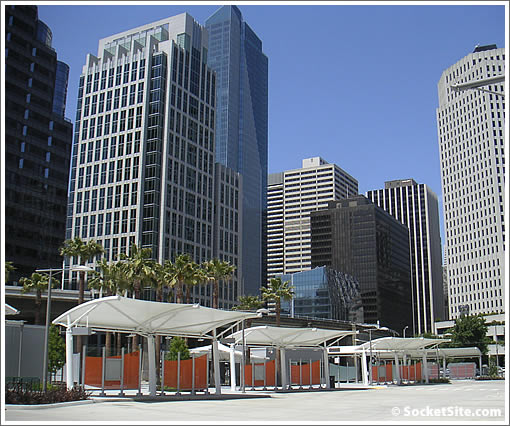 San Francisco's Temporary Transbay Terminal has five weeks to open before its "Opening Spring 2010" signs (which replaced its "Opening Fall 2009" signs) will need to be changed to "Opening Summer 2010."
The timeline for the opening of the Transit Center is later than earlier projections. This is not a result of delays in the construction of the Temporary Terminal, but is driven by the pursuit of federal stimulus funding for the underground train box for the Transbay Transit Center.
Because the inclusion of the train box will affect the first elements of construction and it is not necessary to activate the Temporary Terminal until we are ready to begin construction of the Transit Center, the schedule for opening the Temporary Terminal has been extended pending the FRA's stimulus funding decision. Once the decisions are made and Transit Center construction plans can be firmed up, TJPA will be able to set a move-in date for the Temporary Terminal.
While the train box question has since been answered, and the Transit Center start has been slated for August or September, we're still waiting for that move-in date with respect to the Temporary Terminal. Perhaps we'll start a pool.
∙ And San Francisco's Transbay Joint Powers Authority Rolls…A Seven! [SocketSite]
∙ Transbay Terminal Plans: Revised, Refined, And Unveiled Today [SocketSite]