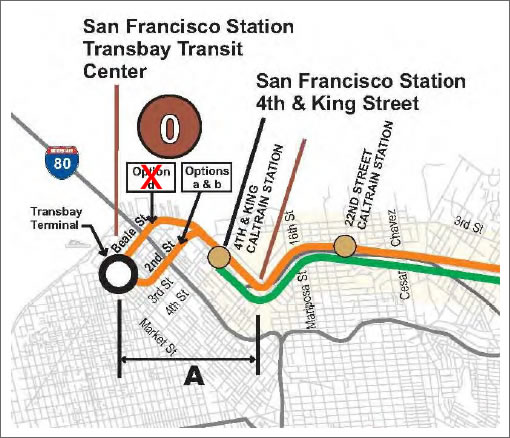 Breath a little easier Watermark and Baycrest owners, and Transbay proponents cheer, as a plugged-in tipster notes the California High Speed Rail Authority has rejected the Beale Street Alternative (Option d) and recomended a Transbay terminus (with service at 4th and King) for high speed rail into San Francisco.
From the California High Speed Rail Authority's preliminary Alternatives Analysis Report:
Only Option [a], in which HST and Caltrain service is offered at the Transbay and 4th & King locations, has been identified to be carried forward into further engineering and environmental analysis.
Option [b], with which all HST service goes to the Transbay Transit Center and there is no HST service at the 4th & King station, is not practicable and does not meet project purpose and need and objectives due to insufficient capacity.
Option [c], which assumes that all HST service terminates at the 4th & King station, does not satisfy Proposition 1A as HST service would not reach the Transbay terminal as a San Francisco terminus.
Option [d] with which HST service would go to a Beale Street station at Transbay Terminal and also to a 4th & King station is not practicable because of difficulties constructing the tunnel along The Embarcadero and under the Bay Bridge and because it would have extensive impacts to properties and displacements.
As the sole dissented, chairman Kopp was left unsatisfied.
∙ High Speed Rail Scoop: Build On Beale, Demolish The Watermark [SocketSite]
∙ While San Francisco Might Get High-Speed Rail, Will The Transbay? [SocketSite]