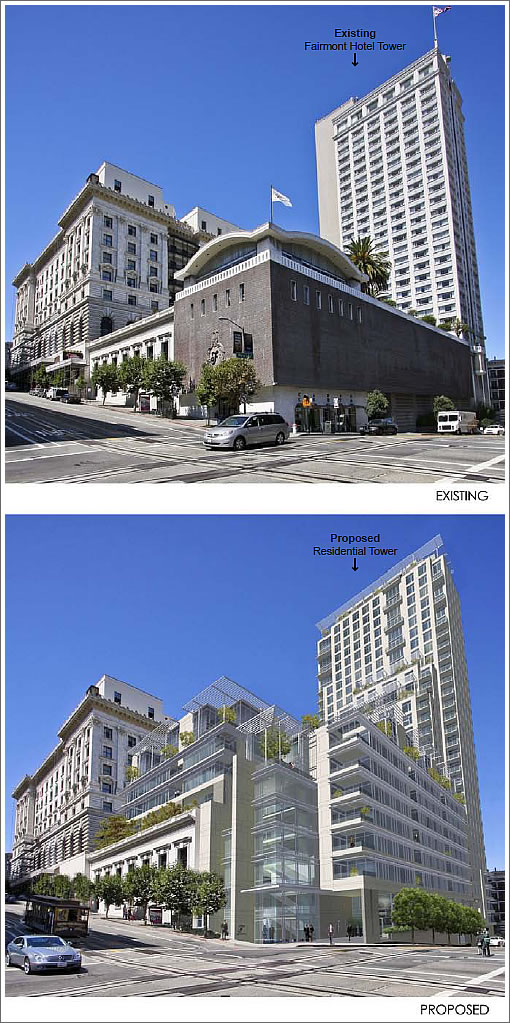 As is proposed for the "Fairmont Hotel Revitalization" and Residential Tower Project:
The proposed project includes two main components: (1) renovation of portions of the historic 1906 Fairmont Hotel, a Landmark structure (City Landmark Number 185), which is also listed on the California and National Registers of Historic Places; and (2) the construction of a new residential tower, a new mid-rise residential component and a replacement podium structure on the site of the existing 317-foot-tall, 23-story non-historic hotel tower above a five-story podium with parking and hotel support uses, that was built in 1961.
The project includes the demolition of the existing hotel tower and podium and additional excavation for and expansion of below-grade parking uses. While interior changes to portions of the historic 1906 Fairmont Hotel are proposed, the exterior facades would remain largely unchanged.
The proposed five-story podium would be 50 feet tall and the proposed five-story mid-rise residential portion (above the five-story podium) would be 55 feet tall. The mid-rise residential component including the podium would be a total of 10 stories and 105 feet in height.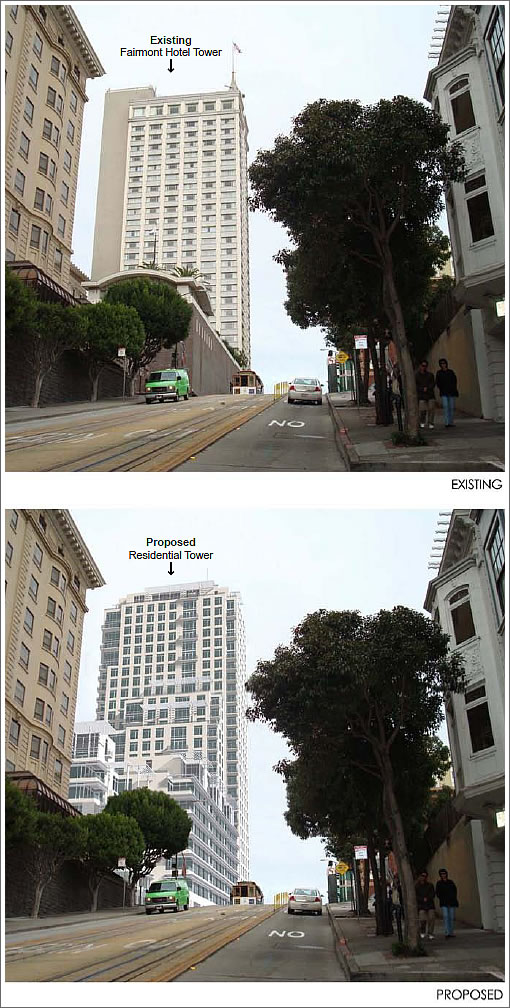 The proposed tower with its flag pole would be 373 feet in height, approximately four feet shorter than the existing hotel tower with its roof ornament (377 feet).
The proposed residential tower, mid-rise residential component and podium would together contain up to 160 residential units (occupying a total of 325,086 gsf); 3,776 gsf of retail space; and an 80,500-gsf net new addition to the existing 165-space, 65,000-gsf subsurface parking garage, resulting in an approximately 145,500-gsf, 350-space parking garage consisting of 302 self-park and 48 tandem spaces.
The project sponsor anticipates that the proposed residential units would consist of a combination of two- bedroom, three-bedroom, and four-bedroom units. Affordable units are not proposed on site as part of the project; the project sponsor anticipates electing to pay an inlieu fee in compliance with Section 315 of the Planning Code.
The project would likely reduced the number of hotel rooms at the Fairmont to between 305 and 365 (a reduction of 226 to 286).
Required approvals include: Conditional Use authorization for modifications to hotel use in the Nob Hill Special Use District; Planned Unit Development authorization; a Certificate of Appropriateness from the Historic Preservation Commission; and Planning Commission approval under the "Large Tourist Hotel Conversion Ordinance."
And assuming all is approved, construction could begin as early as 2012 and be completed by the end of 2014.
UPDATE: The façade of the historic portion of the Fairmont Hotel with the 1961 tower peeking up behind (which would be demolished and rebuilt as is proposed):