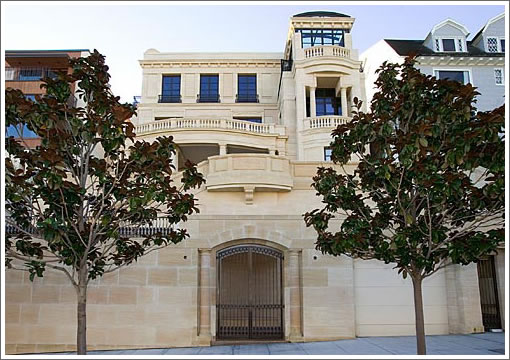 Speaking of properties that were withdrawn from the MLS at the end of the year, after 1400 days on the market at $65,000,000, and without a single official reduction, on Friday the first the listing for 2845 Broadway was withdrawn from the market without a sale.
As we wrote in 2006 when the property was first listed:
Apparently the original two structures at 2845 Broadway sold for $32 million in November 2002, cost of construction to date is estimated to be $18 million, and the "Buzz among brokers" is that it will cost another $8-16 million to finish the property. Just to clarify, for $65M you won't be getting any "interior walls, ceilings and finishes".
No update on the current finish of the property (or whether it will soon return to the market with 1399 fewer days on the market and no official reductions).
Other notable properties that have either recently been withdrawn from the MLS without a sale, pulled off the market for the holidays, or have had their listings expire: 2100 Vallejo, 2006 Washington #4, 999 Green #2802 and 393 Carl.
UPDATE: Noted by a plugged-in reader on our original thread with a reminder by another this morning, a tiny peek inside 2845 Broadway via Forbes a few years back.
∙ The $65,000,000 House [SocketSite]
∙ SocketSite's San Francisco Listed Housing Inventory: 1/04/10 [SocketSite]
∙ Two Years And A 46 Percent Drop In Expectations For 2100 Vallejo [SocketSite]
∙ 2006 Washington Number 4 Returns Asking 32 (Plus) Percent Less [SocketSite]
∙ The (Eichler) Summit Of 999 Green Street #2802 [SocketSite]
∙ 393 Carl: One Of Four New Construction Condos After And Before [SocketSite]