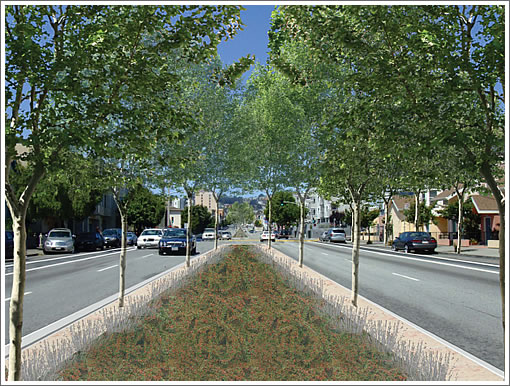 An update on the redesign of Cesar Chavez Street via Mission Loc@l:
The first phase, which is likely to start this summer, involves redoing the sewage system to reduce flooding.
Above ground, the second phase will involve planting more trees, using energy-efficient street lights and converting the three lanes of traffic in each direction to two lanes. With concerns over safety, a 14-foot tree-lined median and widened curbs will be paved to decrease the time needed for pedestrians to cross the intersection. Bicyclists will also be able to enjoy the additional street space through permanent bike lanes.
The redesign has brought attention to the day laborers along Cesar Chavez Street, most of whom object to the city's plans to relocate them at a new site on Bayshore Boulevard.
It's about time for Cesar Chavez (Army) to break out of its amber. And it's another piece of the bigger picture Mission Streetscape Plan.
∙ The Reconfiguration Of Cesar Chavez: It's All About The Pedestrians [SocketSite]
∙ Cesar Chavez Redesign [Mission Loc@l]
∙ Like A Bug In Amber And Not Just On Bernal (Via Laughing Squid) [SocketSite]
∙ Mission Streetscape Plan [sf-planning.org]