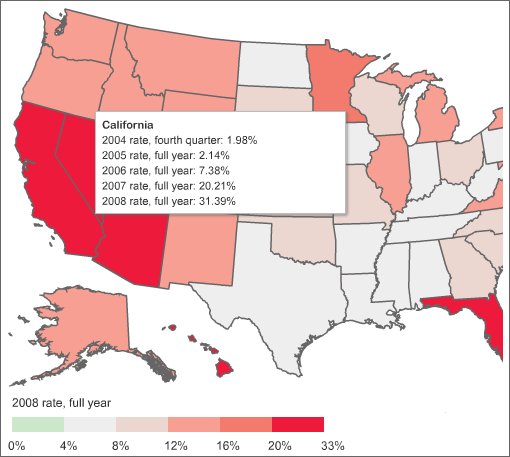 Defined as those who stop paying their mortgages but remain current on all their non-real-estate debts, Experian and Oliver Wyman estimate nearly a third of all defaults in California were "strategic" in 2008 (up from 2 percent in 2004).
As the stigma of abandoning a mortgage wanes, the Obama administration could face an uphill battle in its effort to keep people in their homes by pressuring banks to cut their mortgage payments. Some analysts argue that's not always the right approach, particularly if it prevents people from shedding onerous debts and starting afresh.
"The effect of these programs is often to lead homeowners to make decisions that are not in their economic best interests," says Brent White, a law professor at the University of Arizona who has studied mortgage defaults.
No word on whether or not any of the bank owned units at Watermark might have fit the strategic default bill (or if others are in the works).
∙ American Dream 2: Default, Then Rent [Wall Street Journal]
∙ Rewarding Forgiving Their Riskiest Borrowers [SocketSite]
∙ Another Bank Owned Watermark Comp To Be: 501 Beale #6C [SocketSite]