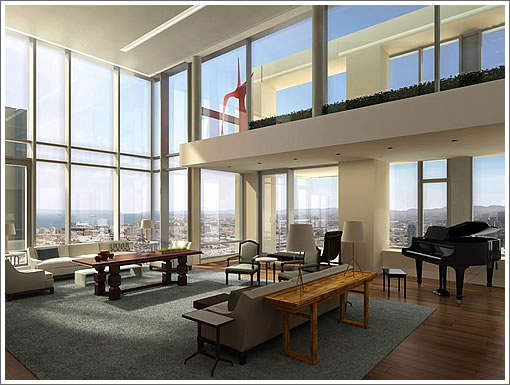 As we wrote about the St. Regis penthouse in July:
According to a plugged-in source…construction should be finished in a couple of months and the renderings will give way to reality.
As a plugged-in tipster adds today:
The St. Regis service elevators have been working overtime for weeks shuttling men and material up to the top. I would expect this to return very soon…and very finished. Now let's see what Victor (MacFarlane) does with the price.
Once again, purchased as a shell for roughly $30,000,000 in 2005 with a small army of craftsmen working on its roughly 20,000 square feet ever since (more or less).
Full Disclosure: The co-listing agent for the penthouse atop the San Francisco St. Regis advertises on SocketSite but had no prior knowledge of this post.
∙ St. Regis Penthouse Animation, Reality A Couple Months Out [SocketSite]
∙ Inside The St. Regis Penthouse: The Rendering Scoop And Details [SocketSite]
∙ St. Regis Penthouse Now $21,000,000 Off (And No, That's Not A Typo) [SocketSite]
∙ St. Regis Penthouse Asking $70M: Is San Francisco All Growns Up? [SocketSite]