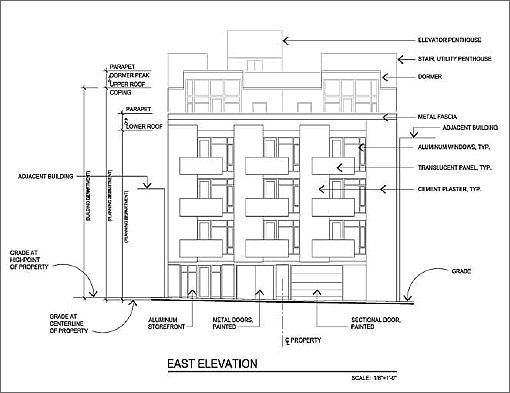 The project description from the preliminary mitigated negative declaration (a good thing if you're in favor of development) for the proposed development of 246 Ritch Street:
The approximately 4,130 square foot (sf) project site at 246 Ritch Street is located mid‐block along Ritch Street, between Bryant and Brannan Streets within the East South of Market (East SoMa) neighborhood. The project site contains a 4,130 sf vacant building that is in very poor structural condition and does not contain a roof or north‐facing wall.

The proposed project includes demolition of the existing building on the project site, totaling 4,130 sf and construction of a new five‐story, 50‐foot‐tall building with 19 Single Room Occupancy (SRO) residential units totaling approximately 16,442 gross square feet (gsf). Each SRO unit would be about 350 sf with 8,690 gsf dedicated to common areas, circulation, garage and storage.

The project includes a ground floor parking garage for four off‐street parking spaces, one car share space, and six bicycle spaces. Floors 2 through 5 would contain 19 SRO units. The project would include planting three street trees along the Ritch Street frontage.

Construction of the proposed project is anticipated to take approximately 18 months. The project site is zoned SLI (Service/Light Industrial) and is within a 55‐X height and bulk district. The proposed project would require Conditional Use authorization for construction of SROs in an SLI use district.
As the site currently appears: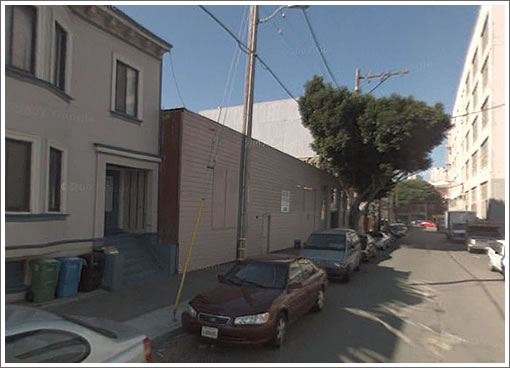 UPDATE: As a plugged-in reader correctly points out:
SRO no longer means what you think it means. It's a term used in the planning code to mean "small studio." SRO's now have their own bathrooms, kitchens, etc. Cubix was approved as an SRO. They're studio apartments, and yes, we have a need for them.