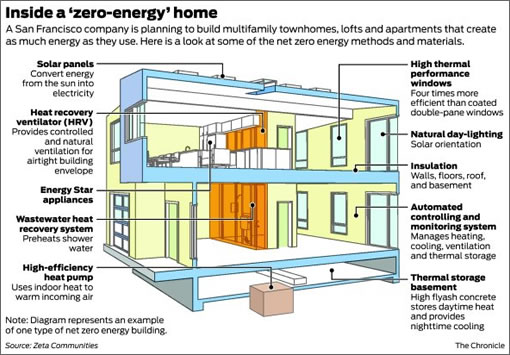 It's not yet San Francisco real estate news per se, but ZETA Communities is based in the city. From the Chronicle:
Zeta Communities, which is headquartered in South of Market and owns a manufacturing plant in San Leandro, is close to completing its first "zero energy" townhome in Oakland and is working with a developer on a proposed 30-unit studio apartment building in Berkeley.
The firm plans to build segments of housing units indoors and ship them to development sites for assembly.
Energy-saving features include extra-thick windows, dense insulation, efficient appliances and a monitoring system that manages temperature and ventilation and tracks electricity use. Warmth in the house is used to heat incoming air, and recovered hot wastewater helps warm shower and sink water. Solar panels generate new energy.
Zero, it's the new eleven.
∙ Startup's prefab homes aim for zero energy bills [SFGate]
∙ ZETA Communities [zetacommunities.com]