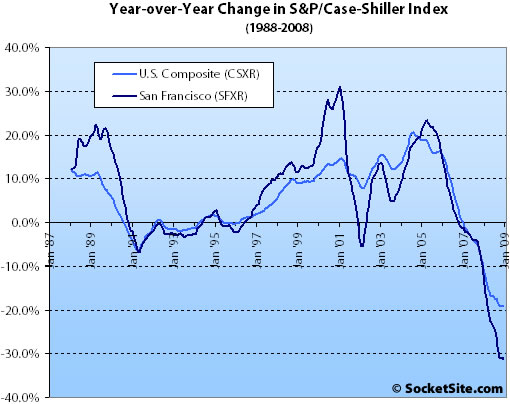 According to the December 2008 S&P/Case-Shiller Home Price Index (pdf), single-family home prices in the San Francisco MSA fell 3.8% from November '08 to December '08 and fell 31.2% year-over-year. For the broader 10-City composite (CSXR), year-over-year price growth is down 19.2% (having fallen 2.3% from November).
The seven worst performing cities in terms of year-over-year declines continue to be from the Sunbelt, reporting negative returns in excess of 20%. Phoenix was down 34.0%, Las Vegas reported -33.0% and San Francisco fell 31.2%. Denver, Dallas, Cleveland and Boston faired the best in terms of annual declines down 4.0%, 4.3%, 6.1% and 7.0%, respectively.
Condo values in the San Francisco MSA also continued their decline falling 1.3% from November '08 to December '08, down 19.8% on a year-over-year basis and down 23.0% from an October 2005 high.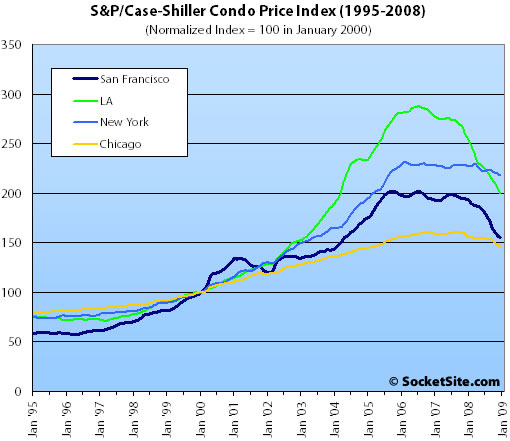 San Francisco MSA single-family home prices fell across all three price tiers.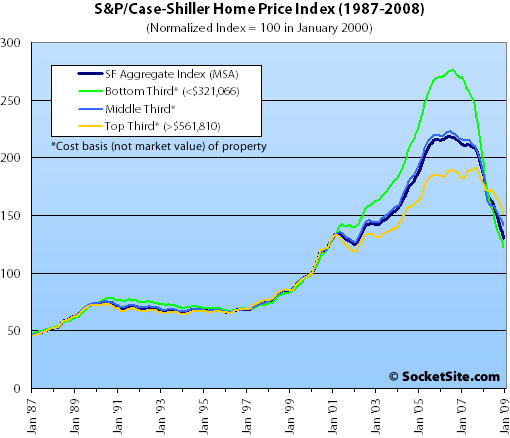 The bottom third (under $321,066 at the time of acquisition) fell 3.8% from November to December (down 39.0% YOY); the middle third fell 2.5% from November to December (down 25.8% YOY); and the top third (over $561,810 at the time of acquisition) fell 3.4% from November to December (down 15.8% YOY).
According to the Index, single-family home values for the bottom third of the market in the San Francisco MSA have retreated to October 2000 levels, the middle third has returned to June 2002 levels, and the top third has fallen to April 2004 levels.
The standard SocketSite S&P/Case-Shiller footnote: The S&P/Case-Shiller home price indices include San Francisco, San Mateo, Marin, Contra Costa, and Alameda in the "San Francisco" index (i.e., the greater MSA) and are imperfect in factoring out changes in property values due to improvements versus actual market appreciation (although they try their best).
∙ Home Price Declines Closed Out 2008 with Record Lows [S&P]
∙ November S&P/Case-Shiller: San Francisco MSA Down, Rate Levels [SocketSite]