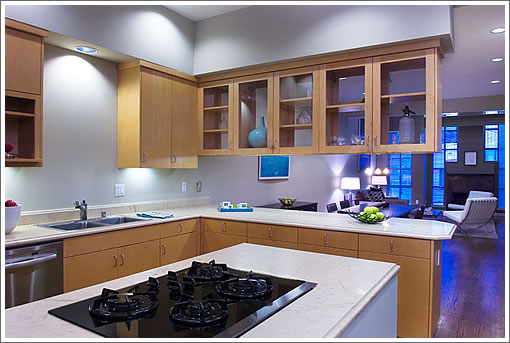 As we wrote a little over a year ago:
213 Moulton is a contemporary single-family home situated down a little alley in Cow Hollow. It first sold for $545,000 in 1995. And ten years later (in 2005) it changed hands for $1,672,000. No doubt about it, that's fantastic long-term appreciation. Then again, it also changed hands in the year 2000 for $1,600,000.
We only mention it now as 215 Moulton (part of the same three home development) has been on the market for a month and has recently reduced its list price $145,000 (or 7.3%). They're now asking $1,850,000 which includes a new full bath (added in 2006) and reclaimed living space on the ground floor.
As we wrote two months ago:
215 Moulton "in the heart of Cow Hollow" appears to have been bought back by the bank with a loan balance of $1,893,000 this past July.
And while the contract price for its previous sale in November of 2007 doesn't appear to be public, we will note a 2008 tax assessed value of $1,800,000 for this District 7 single-family contemporary townhouse.
Listed in April prior to foreclosure for $1,895,000, reduced to $1,795,000 in July, and currently asking $1,750,000.
And as we write today: the sale of 215 Moulton closed escrow on 11/14/08 with a reported contract price of $1,725,000. That's $168,000 less than its last loan balance. And $75,000 less than its last tax assessed value.
∙ Which Five Years Will The Next Five Years More Likely Resemble? [SocketSite]
∙ Cow Hollow Contemporary (And Apparent Foreclosure): 215 Moulton [SocketSite]