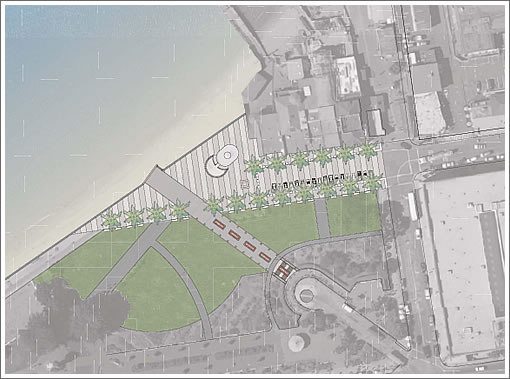 From the Chronicle with regard to the city's plan to "reinvigorate the streets and public spaces of Fisherman's Wharf" and related public spaces including Aquatic Park:
The main drag of Fisherman's Wharf would become more welcoming to pedestrians and cyclists and less auto-friendly as part of a $10 million city plan to improve the world-famous tourist attraction.
The preliminary proposal focuses on Jefferson Street, the one-way road that runs from Powell Street to Aquatic Park. Plans call for removing on-street parking and taking away one of two traffic lanes, using the space instead for bicycle lanes and widened sidewalks with benches. Artists' renderings of two sections of the revamped street were made public Wednesday.
And an unfortunate typo (we hope) from the project website:



UPDATE: Above typo quickly fixed (and thanks for plugging in).
∙ S.F. plans a new look for the old wharf [SFGate]
∙ Fisherman's Wharf Public Realm Plan [SFGov]