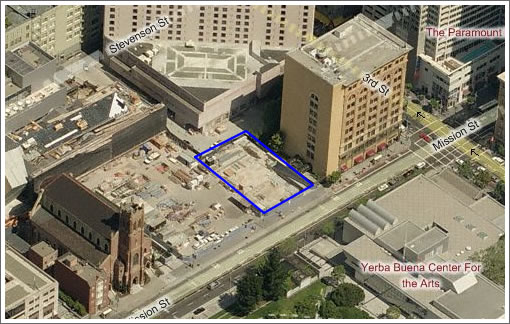 Millennium Partners and JMA Ventures have reached an exclusive negotiating agreement with the San Francisco Redevelopment Agency to develop the empty 9,000 square foot lot adjacent to 706 Mission Street (the gold Mercantile Building).
The proposed use: a 220-unit condominium tower over the Mexican Museum. From J.K. Dineen:
"Under the proposed scheme, the development team — a joint venture between Millennium Partners and JMA Ventures — would build the core and shell of a 35,000- to 40,000-square-foot Mexican Museum at no cost to the museum. The museum would be housed on the lower floors of the condo tower, which will be built on a 25,000-square-foot site on the north side of Mission Street between Third and Fourth streets. The site includes a 9,000-square-foot site the Redevelopment Agency owns and a 16,000-square-foot parcel Millennium and JMA bought in 2006.
The museum and condo tower would be connected to the historic Mercantile Building at 706 Mission St., the 1903 structure with baroque ornamental details that JMA and Millennium Partners own. The height of the residential tower, which is being designed by Mexican architect Enrique Norton and Glenn Rescalvo of Handel Architects, has not been determined; however, a portion of the residential tower will be built over the existing Mercantile Building, according to Amy Neches, project director for the Redevelopment Agency."
"In addition to building the Mexican Museum, the developers have agreed to establish a $5 million endowment to help the cultural institution establish itself. Also, Millennium and JMA have agreed to pay $22 million into an affordable housing fund in lieu of meeting the city's affordable housing requirements. The payment would be equivalent to making 28 percent of the units below market rate.
While the use of the Mercantile building is still being decided, the ground floor will continue to be retail and will be the entrance to the residential tower. The agency and the developer are also talking to the International Museum of Women about moving that organization to the lower floors of 706 Mission. The upper portion of the 100,000-square-foot building could remain office or become housing. Tenants in the building include Yelp, which recently expanded into 32,000 square feet.
Neches said the non-historic gold brick exterior on 706 Mission would be removed to restore the original exterior."
And as Neches notes, the negotiating agreement is simply the start of "a long public process of traffic studies, shadow studies and public debate" for the site. Yes, we're talking years.
∙ Millennium Partners, JMA Ventures tapped for tower [Business Times]