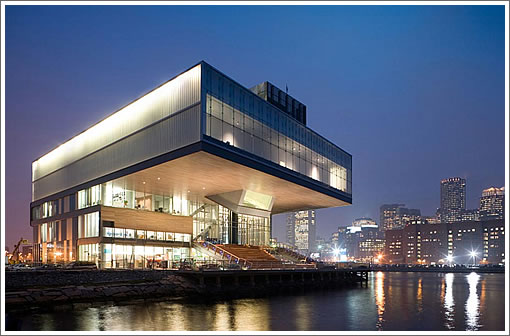 While Mark Dziewulski might have been the only one to submit a design, three other firms remain on the short-list for San Francisco's Museum of Performance & Design. And as such, over the next week or so we'll at least take a look a snippet of the other three's work. First up, Diller Scofidio & Renfro and the new Boston Institute of Contemporary Art:
The building design negotiates between two competing objectives: to perform as a dynamic civic building filled with public and social activities, and as a controlled, contemplative atmosphere for individuals interacting with contemporary art. The "public" building is built from the ground up; the "intimate" building, from the sky down.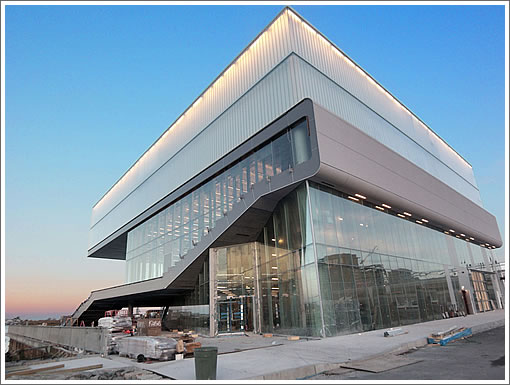 The Boston Harborwalk borders the north and west edges of the ICA site. This surface is metaphorically extended into the new building as a pliable wrapper that defines the building's major public spaces. It folds up from the walkway into a "grandstand" facing the water, it continues through the skin of the building to form a stage, then turns up to form the theater seating, then seamlessly envelopes the theater space, ultimately, slipping out through the skin to produce the ceiling of the exterior public "room." Above the wrapper sits the "gallery box": a large exhibition space on one level that dramatically cantilevers over the Harborwalk toward the water.
Engaging the water in a harbor town? Imagine that (especially with respect to another site).
∙ Boston Institute of Contemporary Art [Diller Scofidio & Renfro]
∙ Museum of Performance & Design: Familiarity With The Corner/Design [SocketSite]
∙ San Francisco's Seawall Lot 337 Design Proposals: In Summary [SocketSite]