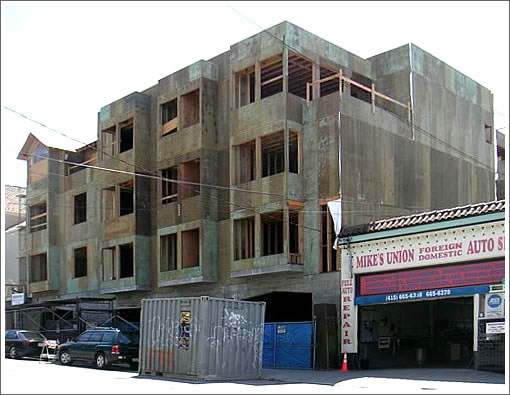 A reader wonders: "I was walking through the Inner Sunset last weekend and noticed a new building going up on 7th between Judah & Irving. Do you happen to know anything about this development?"
We respond (and we do): Where a three-story mixed-use building once stood (think Golden Gate Radiator & Body with two residential units above), a four-story building is rising (which will consist of 2,400 square feet of ground-floor commercial space with eight condos above and eleven parking spaces below). And in addition to saving the two cottages behind, another unit will be built (for a total of eleven).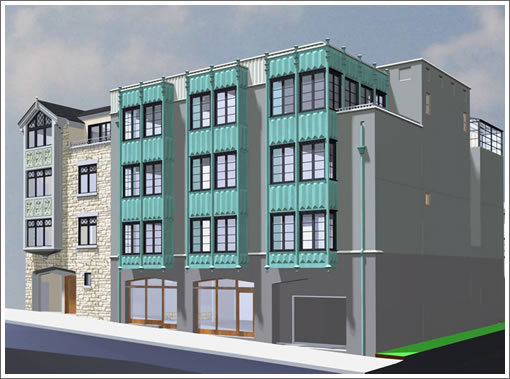 From the architects of 1315-27 7th Avenue (Hamilton & Company Architecture):
We had quite a bit of fun with this 11 Unit Mixed Use /Condominium project. It's located in an established neighborhood in the Inner Sunset in San Francisco, surrounded by buildings from the early 1900's to the late 1930's.
We've reflected some of that history by dividing the front building into two unequal masses. The left side is designed as a traditional Tudor Revival, which has an arched gallery leading back to a landscaped courtyard and three cottages at the rear. The right side is an updated Art Deco "riff" on the Tudor, which repeats the broad Tudor arch in a stylized fashion across the base of the building. Above the arched base are three dramatic copper bays across the façade, which create a colorful focal point within the streetscape.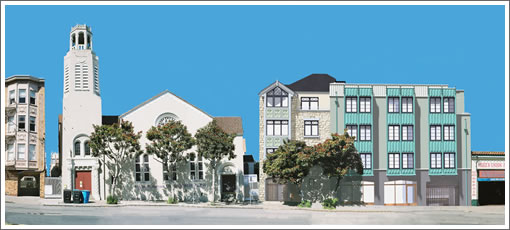 The condos will range in size from one to three bedrooms and according to the architect's website, the development is "[s]cheduled for completion in Summer 2008" (which looks to be a little aggressive).
∙ 1315-27 7th Avenue [Hamilton & Company Architecture]