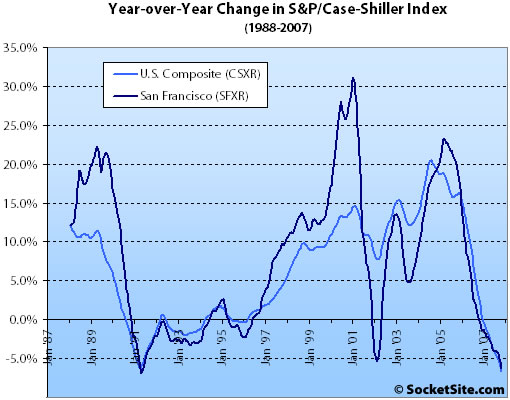 According to the October 2007 S&P/Case-Shiller Home Price Index (pdf), single-family home prices in the San Francisco MSA fell 2.1% from September '07 to October '07 and are down 6.2% year-over-year. For the broader 10-City composite (CSXR), year-over-year price growth is down 6.7% (having fallen 1.4% from September).
Miami surpassed Tampa in October, reporting a double-digit annual decline of 12.4%. Tampa followed with -11.8%, Detroit with -11.2% and San Diego with -11.1%. Six of the metro areas are now posting double digit declines in their annual growth rates. Atlanta and Dallas finally entered negative territory, with declines of 0.7% and 0.1%, respectively, leaving only Charlotte, Portland and Seattle as the MSAs still experiencing positive annual growth rates.
Prices fell across all three price tiers for the San Francisco MSA.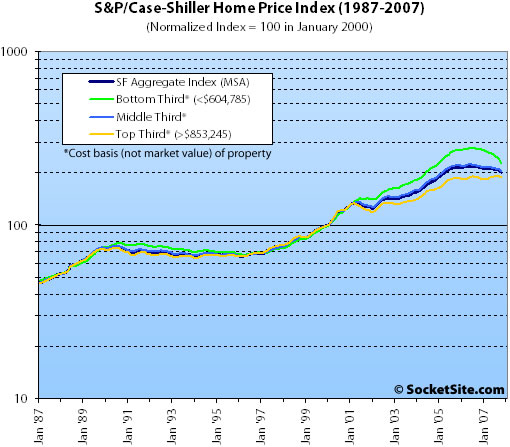 The bottom third (under $604,785 at the time of acquisition) fell 5.3% from September to October (down 17.0% YOY); the middle third fell 2.2% from September to October (down 7.2% YOY); and the top third (over $853,245 at the time of acquisition) fell 1.2% from September to October (up 0.8% YOY).
The standard SocketSite S&P/Case-Shiller footnote: The HPI only tracks single-family homes (not condominiums which represent half the transactions in San Francisco), is imperfect in factoring out changes in property values due to improvements versus actual market appreciation (although they try their best), and includes San Francisco, San Mateo, Marin, Contra Costa, and Alameda in the "San Francisco" index (i.e., the greater MSA).
∙ Broadbased, Record Declines in Home Prices in October [Standard&Poor's]
∙ September S&P/Case-Shiller: San Francisco MSA And Price Tiers Fall [SocketSite]