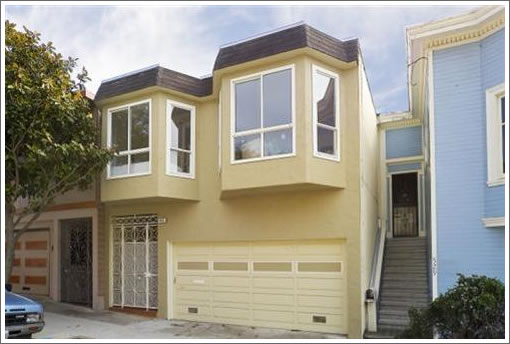 It's a plugged-in tipster that notes 525 Laidley in Glen Park recently closed escrow rather quickly for "over asking" (listed for $1,295,000 and closed for $1,340,000) and quite possibly with "multiple offers." And we'll note that the "median sales price" for single family homes in District 5 (which includes Glen Park) is up 4.1% over the past year.
And while all those stats (over asking, multiple offers, and median sales price up) are sure to be seen as signs of market strength by some, the sellers might have a different perspective:
The previous owners bought it in a private sale for $1,406,000 in April 2007 (yes, eight months ago). This was not intended to be a flip but they put it on the market two months later because one of them got a new job out of state. In the meantime, they had put maybe $10K into the house. The listing price was $1,395,000. They received multiple offers but it didn't sell because "the number" they were holding out for was $1,465,000, as anyone who attended an open house was told. I guess that was the number that would cover their brokerage cost?
They then took it off the market for a while and relisted it a few weeks ago with a new agent at $1,295,000. They did no work on the house in the meantime but the major positioning change was that they now quoted and advertised the number of square feet (3200). Before, that number had been left blank. The house sold quickly for $1,340,000, much less than the offers they had turned down a few months before.
All of which leaves our tipster wondering: 1) "I understand pricing a house lower than you think it will sell for in order to spark a bidding war. But why would you price a house lower than you will accept?" And 2) "Under what circumstances does an agent NOT list the square footage and what could have changed in a couple of months? My guess was unwarranted additions but I don't see any permits filed to correct that."