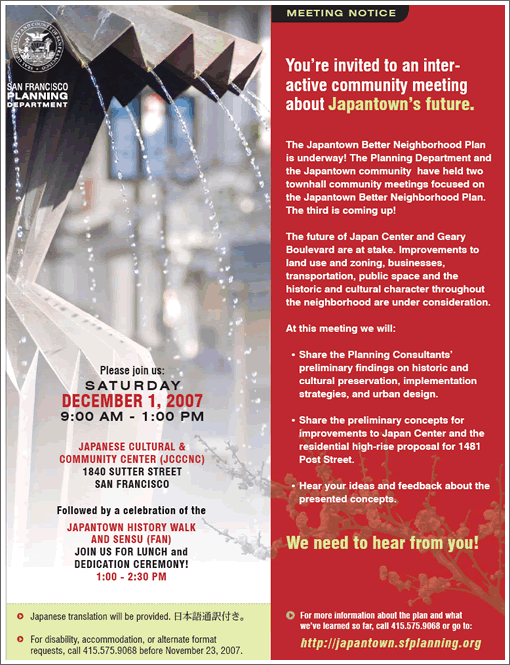 From the San Francisco Planning Department (via a plugged-in tipster):
This is a reminder to encourage you to attend this Saturday's Japantown Better Neighborhood Plan Workshop. In addition to hearing from the Planning Department's planning consultants regarding historic and cultural preservation, implementation strategies, and urban design findings, we will also see preliminary design concepts for Japan Center and a preview of the proposal for 1481 Post Street (a recent addition to the agenda). Following the presentations, we've dedicated time for community members to give their feedback in small groups regarding all the topics.
The future of Japan Center and Geary Boulevard are at stake. Improvements to land use and zoning, businesses, transportation, public space and the historic and cultural character throughout the neighborhood are under consideration.
Our first thought: hello modern. Our second thought? Point number four in one reader's "5 Suggestions To Turn Around Fillmore."
∙ Japantown Better Neighborhood Plan [SFGov]
∙ Are Ikkyu's Days Numbered? [SocketSite]
∙ SOM Design And Details For 300 Condominiums On A Hill [SocketSite]
∙ The Official Cathedral Hill Tower (1481 Post Street) Website [SocketSite]
∙ A Reader's "5 Suggestions To Turn Around Fillmore" [SocketSite]