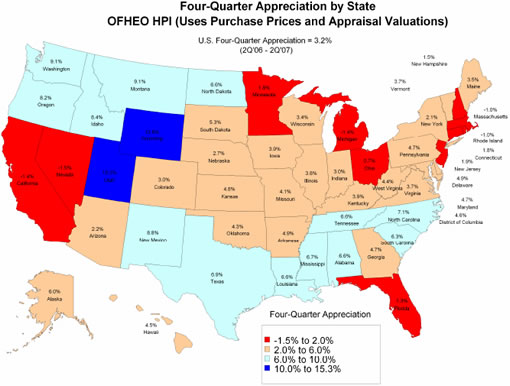 The good news: according to the OFHEO, home prices in the United States increased 3.19% year over year in the second quarter of 2007 (many had predicted a historic drop).
The not so good news: OFHEO reported home prices dropped 1.38% year over year in California (only Michigan and Nevada recorded higher declines) and .86% in the San Francisco-San Mateo-Redwood City MSAD (versus a 1.32% year over year gain in Q1).
U.S. home prices increased only slightly in the second quarter of 2007 according to the OFHEO House Price Index (HPI). The HPI, which is based on data from sales and refinance transactions, was 0.1 percent higher in the second quarter than in the first quarter of 2007. This is below the revised growth rate of 0.6 percent for the previous quarter and the lowest since the fourth quarter of 1994. Prices in the second quarter of 2007 were 3.2 percent higher than they were in the same quarter of 2006, the lowest annual price change since the 1996-97 period.
"House prices were basically flat in the second quarter despite tightening credit policies, rising foreclosure rates, and weakening buyer sentiment," said [OFHEO Director] Lockhart. "Significant price declines appear localized in areas with weak economies or where price increases were particularly dramatic during the housing boom."
That being said, do keep in mind that "[t]he data in this release only include price information through June. To the extent that recent mortgage market instability may have affected housing demand and prices, those effects would be evident in OFHEO's next HPI release." (Yes, we'll keep you plugged-in.)
And once again, the HPI is based on data from repeat single-family home sales, or refinancings, that involve conforming mortgages (under $417,000). Data from transactions involving either condominiums or non-conforming loans (two major components in the San Francisco market) are excluded from the Index.
∙ OFHEO: U.S. House Prices Slow (pdf) [OFHEO]
∙ OFHEO First Quarter Report: 0.35% Appreciation For SF MSAD [SocketSite]