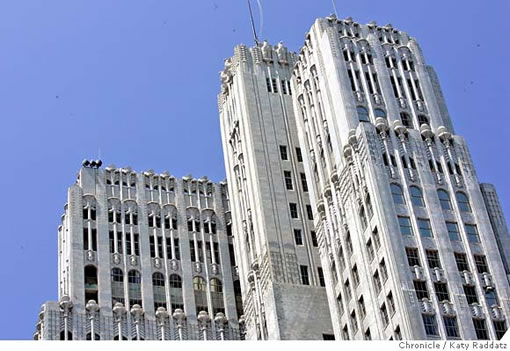 A "plugged-in" tipster notes the news that Wilson Meany Sullivan is in contract to purchase the 26-story Pacific Telephone Building at 140 New Montgomery for $345 a square foot with plans to spend an additional $500 a square foot converting it from an office building to "a five-star hotel and condominium tower, with a spa, restaurant and bar."
Architecture firm Hornberger + Worstell has been hired as project architect, along with historic preservation specialists Page & Turnbull. Plant Construction Co. will be the contractor on the project. Mark Hornberger, a principal with Hornberger + Worstell, said the light gray terra cotta tapered skyscraper is a "wonderful historic landmark property and we want to be very careful about the work we do." He said the building could support about 100 residences and 70 to 80 hotel rooms and would be "more intimate than the St. Regis with an even higher level of service." The deal includes a 441-space, eight-level parking garage on Natoma Street behind the Pacific Telephone Building.
The Jazz Age building was designed by Timothy Pflueger — who also designed 450 Sutter St., the Pacific Coast Stock Exchange and the I. Magnin building — and was considered radically contemporary when constructed. The building, with 13-foot terra-cotta eagles perched on its four corners, retains many of its original detailing, including the black marble lobby and bronze elevator doors, wood-paneled board rooms with working fireplaces.
And on a side note, our tipster is led to wonder: "What happened to the word deluxe? Is 'luxe' a level higher, has deluxe become dated – reserved for 'mid-century' descriptions? Did marketers feel a need to invent another word – like world-class (which thru overuse now has no impact?)" [Cue the Jeffersons theme song.]
∙ S.F. tower to become luxe hotel [San Francisco Business Times]
∙ Pacific Telephone Building gets heavy interest from developers [SFGate]