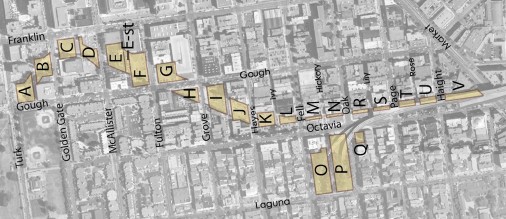 It has been a little over a year since the ribbon was cut and Octavia Boulevard was officially deemed reborn. And now the housing fun begins.
The City and County of San Francisco ("City"), through its Mayor's Office of Economic and Workforce Development ("MOEWD"), is seeking proposals from qualified respondents for the purchase and development of Central Freeway Parcels M [as well as N, P, and V].
In issuing this Request for Proposals ("RFP"), the City is seeking a project that provides excellence and innovation in urban infill and architectural design and complements Octavia Boulevard. . . . Because of the importance of creativity and quality of design for a project at the Site[s], responses to this RFP are being sought only from teams consisting of, at a minimum, one (1) housing developer and one (1) architect (a "Developer Team").
The minimum prices which the City will accept for these undeveloped lots range from $495,000 (parcels M and N) to $11,000,000 (parcel P). Proposed height limits (around "Fifty (50) feet"), parking requirements (for the most part "Parking is neither required nor encouraged"), and density limits are all outlined in the RFPs.
Before you start fantasizing about getting your hands on one of those $495,000 parcels and becoming a junior developer, keep in mind that a tipster notices that "two of the four parcels being peddled by the city are all of 18.25 feet wide!" And yes, those would be parcels M and N.
∙ Octavia Boulevard Rebirth [SocketSite]
∙ Hayes Valley And Octavia Boulevard Update [SocketSite]
∙ Octavia Boulevard: Request for Proposal's [SFGov]