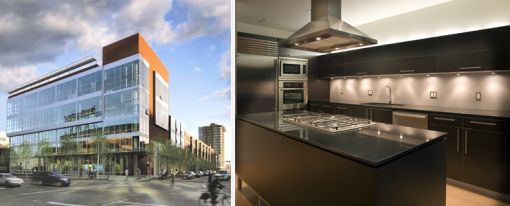 The Glassworks in Mission Bay (207 King) is as a mixed use development that included 34 residences when completed in 2003. Designed by Brand + Allen Architects, the units feature a wall of glass (along with central air conditioning) and overlook Pac Bell SBC AT&T Park.
In addition to the original 34 residences, Santa Fe Partners recently converted an additional floor in the building (previously commercial) into a collection of five "upscale city homes" (four one bedrooms and one two bedroom). From a reader:
If you go to www.santafepartners.com, you will find some information about the units but if you fill out the form to have them contact you, you never hear back at all, either by phone or e-mail. I personally like the floor plans that I see on their website, but am surprised that there is never any follow up from Santa Fe Partners.
We're surprised too. Does anyone have the inside scoop?
UPDATE (9/20): We have initial pricing:
∙ Glassworks #411 (1/2) 1461 sqft – $1,595,000
∙ Glassworks #412 (1/2) 987 sqft – $995,000
∙ Glassworks #413 (2/2) 1628 sqft – $1,650,000
∙ Glassworks #414 (1/2) 1172 sqft – $1,295,000
∙ Glassworks #415 (1/2) 1440 sqft – $1,495,000
∙ The Glassworks [Santa Fe Partners]
∙ Brand + Allen Architects: Portfolio